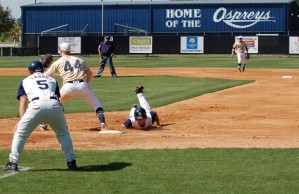 UNF baseball won two of three games April 4 – 5 in a series against Eastern Tennessee State University. Junior first baseman Kevin Martin was awarded the title of Atlantic Sun Conference Player of the Week.
Martin came into this weekend's series against ETSU touting a .806 slugging percentage and showed no sign of slowing down, going 5-12 with nine runs batted in over the series. Martin said  he was able to get good looks and got good pitches to hit during the series.
The Ospreys totaled seven home runs and 31 runs during the series, with both Martin and junior outfielder Justin Preckajlo smacking two home runs each.
Game one of the series on Saturday was a blowout, with the Ospreys defeating ETSU 15-3. The game lasted only seven innings because of the NCAA's 10-run mercy rule.
Preckajlo and junior infielder TJ Thompson each hit one home run in the game, and Martin and sophomore outfielder Michael Smith each hit two home runs.
ETSU got 11 hits in game one with catcher Derek Trent hitting the only home run of the game for the Bucs.
The Ospreys' senior starting pitcher John Frawley pitched a complete game, pitching all seven innings, giving up 11 hits, three runs and one walk with five strikeouts.
ETSU's starting pitcher Ben Andrews made it through one inning before being pulled out of the game after giving up seven hits, eight runs and a walk.
Game two of Saturday's doubleheader was much closer than  the first, but ended with another UNF victory with a final score of 8-6.
Senior outfielder Brian Wilson hit the only home run of the game. With the game tied 5-5 in the bottom of the eighth inning, Wilson hit a three-run blast to give the Ospreys an 8-5 advantage and the win.
ETSU combined for 12 hits in game two with Jacob Fabry, Troy Mendez and Paul Hoilman combining to score four runs in the seventh tying the game at 5-5.
UNF starting senior pitcher Phil Rorabaugh went six innings, giving up six hits, three runs and two walks and collecting four strikeouts.
After sweeping the double header on Saturday, UNF head coach Dusty Rhodes said their team is set up to compete against A-Sun teams, and every man on his team has to play with intensity the entire game.
The Ospreys dropped the final game in the series, 12-8. ETSU jumped to an early 4-0 lead that the Ospreys couldn't seem to come back from. After the sixth inning ,ETSU's lead was 11-5.
UNF's starting pitcher John Atteo gave up six runs on six hits. Atteo finished two innings.
"You have to take each game as they come and play in that moment," Rhodes said. "Every game is a chance to start with a clean slate."
UNF will take on USC Upstate at 1 p.m. April 9 – 10 in Spartansburg, S.C.
E-mail Justin Sacharoff at [email protected].