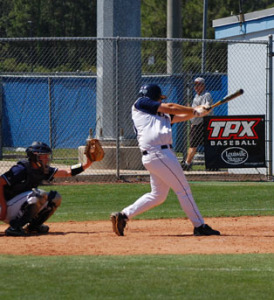 It has been a busy season for UNF Athletics, but for two UNF baseball players and a UNF women's tennis player, the first week of April was an even busier week.
UNF's right-handed starting pitcher, senior John Frawley, and UNF's tennis player, freshman Aline Berkenbrock, each won the weekly Atlantic Sun Player of the Week Award for their respective sports. And UNF baseball's first baseman, junior Kevin Martin, earned national collegiate recognition by being named to the College Baseball Foundation National All-Star Lineup.
Frawley was awarded the A-Sun Player of the Week Award after piching his fourth straight complete game April 10 against the Lipscomb Bisons. UNF (15-20, 9-7 A-Sun) won the game 1-0 and outpitched Lipscomb's starting pitcher Rex Brothers, who head coach Rhodes considers to be a Major League Baseball first-round draft pick, he said.
Frawley pitched all nine innings in the game. He allowed only five hits, no earned runs or walks, struck out eight batters for his fifth win of the season and his second complete game shutout of the season.
"[Frawley] has been really consistent," Rhodes said.
Frawley is 8-1 as a pitcher in his four-year tenure at UNF, and Rhodes believes Frawley has obtained great control and is an "all around pitcher," he said.
Aline Berkenbrock was awarded the A-Sun Player of the Week award after her undefeated weekend in the UNF Fall Invite tennis match. This weekend's matches led to Berkenbrock's match-clinching win against the University of Central Florida.
Berkenbrock seized a 6-3 third-set victory at the top singles game, leading the Ospreys to a 4-3 win against UCF at the UNF Tennis Complex April 4. The Ospreys are a perfect 11-0 at home this season.
"Aline came in this season and immediately had an impact," UNF head coach Rodrigo Puebla said in a press release. Berkenbrock has come into her own as a freshman playing at the collegiate level and has been a key factor in the Ospreys' wins.
Along with winning UNF's Player of the Week in late March, Kevin Martin was selected to the College Baseball Foundation National All-Star Lineup for the first week in April. Martin batted a .409 (9-for-22) with 18 RBI in six games last week.
In the first week of April he had a 1.045 slugging percentage, which included four home runs and two doubles alongside a UNF 4-2 record as well. Martin is one of 13 nationally selected Division 1 players. This is the seventh week of the award this season.
Martin was a walk-on first baseman who waited for his time to shine. UNF habitually left runners in scoring position, and when Coach Rhodes decided to bring up Martin in the hitting lineup, they started to see a more powerful-hitting Martin, Rhodes said.
"We gave him the chance, and he did the job," Rhodes said.
UNF has now collected its fifth conference weekly award this year, which is the most UNF has ever obtained since joining the A-Sun conference in 2006.
E-mail Rob Moccio at [email protected].