Potential Osprey helps save five lives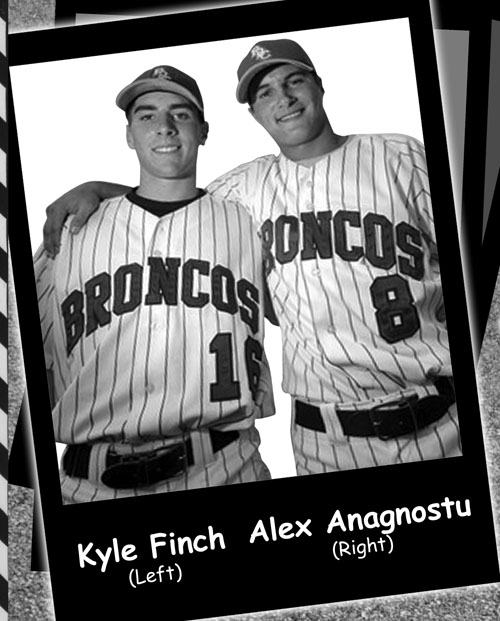 As Kyle Finch watched the Expedition ahead of him spin out of control into the guardrail, he knew there was no time for him to waste. But then again, Finch has spent most of his life learning to make split second decisions without thinking twice.
"Because I've been playing sports most of my life, I understood exactly how to handle a high-pressure situation," he said.
Finch, a senior at Palm Beach Central High School, is a pitcher on the school's baseball team and recently signed a national letter of intent to play baseball for UNF next season.
He and teammate Alex Anagnostu were driving on State Road 80 in Hendry County around 4 p.m. March 14 on their way back from visiting a friend at Florida Gulf Coast University. It was then that the two saw the back left tire of the Expedition two cars ahead of them blow out.
"At first, the whole thing seemed so surreal," Finch said. "As soon as the tire went, the car spun out of control and smashed into the guard rail. The force of the guard rail catapulted the car straight up into the air like a ballet dancer before it came crashing back down to the ground. When the car flipped, it didn't just hit the guard rail and stop, it took several violent rolls before it landed in a
nearby canal."
When the car landed, Finch and Anagnostu made their way to the scene. Finch ran directly to the car while Anagnostu ran to help a 9-year-old boy who had been ejected from the car.
As Finch stood shin-deep in water next to the car, he had no clue what to expect inside, he said. When he opened the door, there were three people crammed together in the front seat. (The driver and a passenger in the back seat had not been wearing seat belts.) Two other passengers remained in the back seat.
"When I opened the door, I started doing things I didn't think I could do," Finch said.
For UNF head baseball coach Dusty Rhodes, Finch's story is what they try to teach to UNF athletes on and off the field, Rhodes said.
"We don't just check to see who kids are as players; we check to see who they are as people," Rhodes said.
"One of the top things I look for is the guy with the biggest heart and the best character. You can learn how to be a good athlete, but character is a lot harder to find."
Rhodes said he looks for four basic qualities in those who play for him: someone who pays attention, work hard, does the job they are told to do and puts the team first.
"We expect a hell of a lot more from our kids than other people do," Rhodes said.  "I know I can be harsh and hard on them sometimes, but pushing them to be dedicated now will help them later in life when they have to go through the real hard times on their own."
If Finch fulfills his intent to play for the Ospreys, he will already be ahead of the game.
Finch was a part of a group of 10 who pulled over to help the victims. As others stood on the side, Finch shouted for someone to call for 911 while he helped try to remove the passengers from the vehicle.
"They just leapt into it," said Priscilla Hardaway, a nurse who was in the vehicle immediately behind the Expedition. "You would have thought they were the paramedics."
The victim  thrown forward in the car was three and a half months pregnant, and, along with broken ribs and bones, she lost her baby in the accident, Finch said. The remainder of the passengers suffered from minor broken bones and bruises, while the boy who was ejected from the car had to get several stitches in his skull.
"I was proud they were conscious enough to help out their fellow man like that. I think it took a lot of courage," Palm Beach Central coach Scott Benedict told the Palm Beach Post. "A lot of people would not have the courage to do that."
For Finch, it was just the only option there was.
"Because we were right behind them, we were able to see the severity of the accident in full detail," he said.  "I've always learned to do for others what you would hope they would do for you, so I just did what I hope people would do for me if I was ever in that kind of situation."
Another key motivator for his response was his personal faith, Finch said. He believes every situation he experienced beforehand was given to him by God to help prepare him for the accident.
"I saw things that day that totally changed my view of reality," Finch said.
He explained how he packed three bottles of water before leaving FCGU. After the accident, the two went to retrieve the bottles of water for the victims, but what they found surprised Finch.
"I knew that when I got to my car there would only be two half-empty bottles and one full bottle of hot water there, but when I opened the door, there were five full ice-cold bottles of water sitting in the front passenger seat; one for each of the five passengers," Finch said. "To me, that was clearly an act of God. There was no way those bottles were in my car before."
The accident was a reminder that you never know what is going to happen next in your life, Finch said.
But one thing he does know: he wants to play at UNF. Here, Finch hopes to learn a lot about baseball, but said he expects to learn even more about life.
For him, UNF is the perfect place to mold himself into a better athlete, student and all around
better person.
E-mail John Weidner at [email protected]