Column: My Week in Fantasy Football Land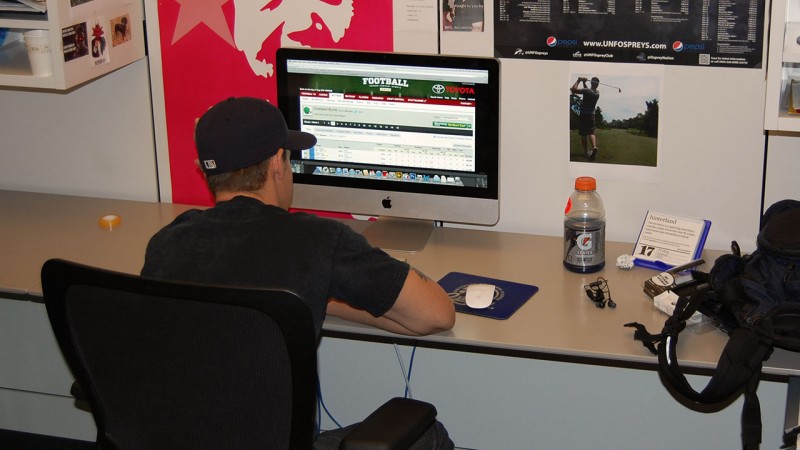 On Thursday night, Sept. 13, I received some devastating news. I was notified via iPhone that a football player that I've never met, on a team that I have never rooted for, was injured in a game that involved two teams that I hate.
So why did I care? Two words: Fantasy Football.
The player in questions was Chicago Bears running back Matt Forte. Forte suffered a high ankle sprain in the first half of a game against the Green Bay Packers.
Five years ago I wouldn't have cared a bit about the health of random players around the league.  I am a die-hard Jacksonville Jaguars fan, and will be forever, or until they move to London.  The Bears aren't even in the Jaguars division and they play each other about once every four years.
But thanks to Fantasy Football, I am so emotionally and monetarily invested in the success of Forte and the Bears this season that I am probably more concerned with the condition of his ankle than his own grandmother.
You see Forte is not only a running back for the Chicago Bears, but he is also the best running back on my fantasy football team, the Overpaid Bums.
The Bums are no fantasy for me though.  They are as real as it gets: Real money is invested (a car payment's worth). Real time is spent every week tweaking my roster. Real friendships have been lost as a consequence of this so-called fantasy game.
It's more like a nightmare.
I am so obsessed with fantasy stats that during the Jaguars game on Sunday I was angered more by my phones inability to pick-up a signal — not knowing my fantasy score — than I was about the beating the Jaguars were taking at the hands of the Houston Texans.
When I was finally able to pick up a signal, I got a mix of good a bad news.  The good news: Victor Cruz exploded (24.9pts, standard Yahoo scoring system, non-ppr) and I also got good game out of Jimmy Graham (13.1).  The bad news, my top draft pick, pretty boy Tom Brady, laid an egg against the Arizona Cardinals putting up a sub-par 17.54 points.
Also in the bad news department was the performance of my second best running back St. Louis Rams' running back Stephen Jackson.  Jackson was taken out of a close game against the Washington Redskins after he threw a temper-tantrum following a blown play.  Jackson pulling a Kanye West could potentially take money right out of my pocket.  You can see why this game can drives me crazy.
Thanks to the stupidity of my opponent, I am still in decent shape going into Monday night.  I guess he thought staring two 3rd string wide receivers (Brandon Lloyd — NE — 6 pts and Sidney Rice — SEA — 3.3 pts) would help him win against the Bums, but it doesn't look too promising.
This week's top Fantasy performances that didn't directly affect me include Eli Manning throwing for 500-plus yards and three TD's for a total for 36.2 points, Robert Griffin III (who is looking like a fantasy stud so far) racking up 34.44 points, and Reggie Bush surprising most people with a massive 32.7 points.
As I sit in my apartment and write this column, my focus wavers.  The Lions – 49ers game is playing on NBC and I am suddenly a huge fan of both defenses.  My opponent is not completely bone-headed.  He does have Vernon Davis and Matthew Stafford, two 2nd tier fantasy players, competing in prime time giving him an outside chance at a comeback victory.
Yes! Bums kicker Jason Hanson just kicked another field goal!
Excuse me.
My Yahoo Fantasy Football app will continue to work over-time until late Monday night.  I have Denver Bronco Eric Decker and Atlanta Falcon Michael Tuner playing in the last game of the week.  As long my opponent's last player, Roddy White, doesn't catch 5 touchdowns, I should cruise to a comfortable victory.
As aggravating and stressful as fantasy football can be, I wouldn't give it up for the world.  Games that I would normally care very little about suddenly become compelling, must-watch football.
If Brady rebounds from this weeks performance, stays healthy, and doesn't elope with some hot French model, the Overpaid Bums should have a real shot at a fantasy title come December.
Stay tuned for updates on fantasy football throughout the…
No! Vernon Davis scored.
I hate this game.