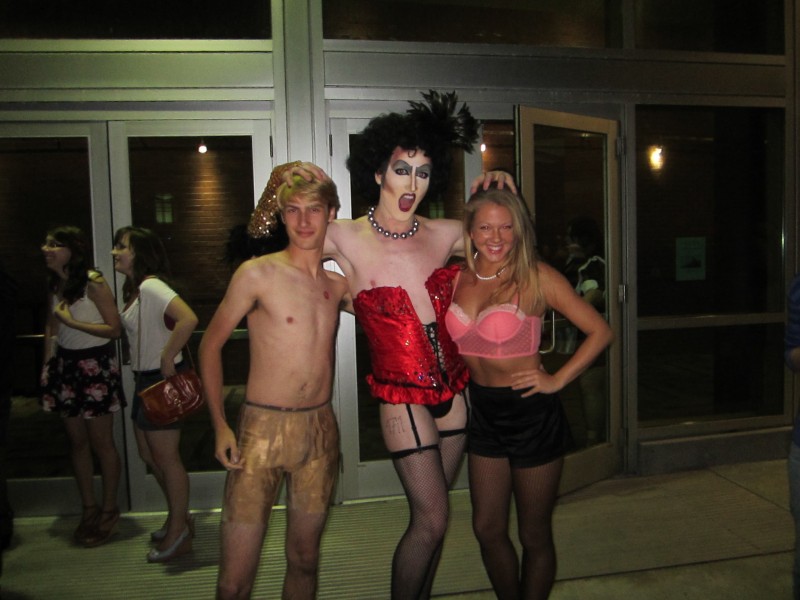 What is "The Rocky Horror Picture Show"? Hard to say … something about a Sweet Transvestite from Transsexual, Transylvania. The show is loud and offensive, full of dancing, throwing, yelling, laughing and cross dressing.
It's a rock musical written by Richard O'Brien and released in the film format in 1975. It is the longest running released film in history and also one of the most financially successful midnight showings of all time. Its stars include four-time Academy Award nominee Susan Sarandon, Tony and Golden Globe winner Barry Bostwick and stage award-winning actor Tim Curry.
Surely with all of this theatrical talent, there's a plot somewhere underneath all the cross-dressing and virgin sacrifices.
Although I had great difficulty figuring out what it was.
I think it has something to do with sex and more sex along with acts of jealousies in addition to mad scientists and a Time Warp. I do know that Meatloaf dies, and there's a cult fan following.
At the UNF showing Oct. 19, the movie played in the background with "Mystery Science Theatre 3000"-like commentary while live actors all around you re-enact the action projected on the screen. And the commentary was quite humorous; it was a lot to take in while being incredibly entertaining.
Fans might've been bummed because they had to leave their toast, hot dogs, toilet paper, confetti and rice at home, but even after 37 years since the film's release, they show up dressed in drag or in gold spray-painted boxers. For props, instead, they bring cards, noise makers, glow sticks and lipstick to mark V's on the foreheads of the RHPS virgins.
Would I go again? Yes. Especially now that I'm more prepared.
It's something everyone should experience. Since I promised my editor I would report on something, I figured this would be an interesting event to attend. I had no idea it would be so over-the-top with heavy audience participation.
After all, I heard my mom talking about this. Who knew college students my age were still willing to dress up and play?
I learned something new about some of my friends that night. They knew the words and dance steps to the songs, they dressed in what I learned to be "appropriate attire" and they understood the references, such as what the heck toast had to do with anything.
This show definitely put me in the spirit to dress up for Halloween. And Kathleen Lenz, a UNF criminal justice major, agreed with me.
"It was like Halloween, but less scary and more kinky and no candy," she said.  "Just toast and rice."
Overall, it was very entertaining, and now I can understand the references cultists everywhere make. I think my experience of "The Rocky Horror Picture Show" can be summed up by what the Criminologist says in the beginning of the movie.
"I would like, if I may, to take you on a strange journey."
Email Taylor Leckie at [email protected].