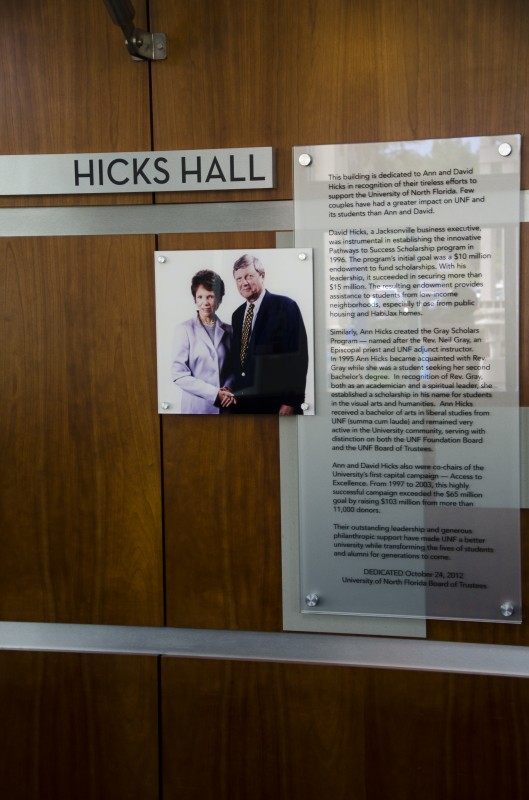 UNF Hall was dedicated to longtime university leaders at a ceremony Wednesday.
Ann and David Hicks have been involved with the university's development for decades and have been influential in the community.
The Hicks are the patrons of the Hicks and Gray Scholarships and meet with those students several times a year, said Pierre Allaire, the vice president of institutional advancement.
Allaire said the family deserved this award for its longtime involvement with the university and its acceptance of leadership roles.
The funds for this dedication came from the $1,000 budget allotted from the University Foundation for dedications and groundbreakings, Allaire said. He said he is unsure of the exact figures.
Ann Hicks describes herself as UNF's No. 1 cheerleader and said her family is "flattered to be honored by such an outstanding place."
She said the dedication is "the most amazing, humbling thing we've ever had happen to us."
David Hicks has worked with the Jacksonville Housing Authority, HabiJax, the DeEtte Holden Cummer Museum Foundation and several other organizations.
Ann Hicks graduated from UNF in 1994 and has served as a member of the Board of Trustees and the Foundation Board. She has served on the boards for the Jacksonville Public Library, HabiJax and other organizations.
The two also served as co-chairs for the first capital campaign, Access to Excellence.
Email Natalie Logan at [email protected].