The UNF Rugby team is back on the pitch for its 2012 fall season, and it has high hopes.
The UNF Deadbirds advanced to the National Small College Rugby Organization Division III National Championship tournament but fell short of being national champions.
They lost their two final matches of the tournament to Cal-Maritime, 31-26, and Salve Regina, 21-5.
Despite the postseason losses, the team was undefeated throughout its regular-season schedule. Coming off a successful year has impacted the team's confidence level, as it heads into its fall season, junior Joseph Eichner said.
"After progressing so far last [season] and playing ball on national television, our team has realized we can take on anyone if we play our game and stick to the plan," Eichner said.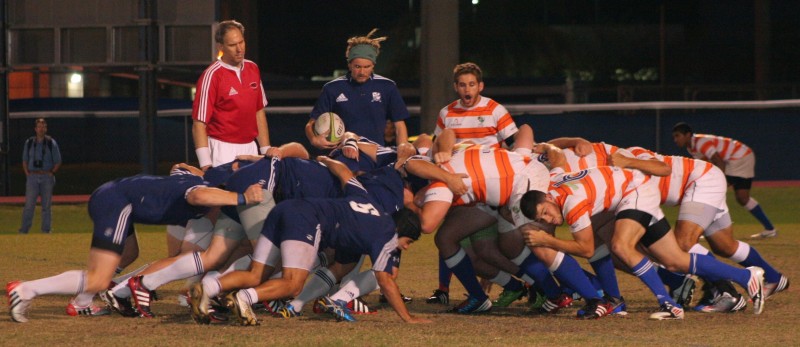 The team began its fall season with a win over South Florida, 33-9, before embarrassing Florida International University, 74-5, Oct. 21.
The fall season consists of opponents from all over Florida, and the Florida Collegiate Cup culminates it.
For the third match of the season, the Deadbirds hosted the University of Florida, one of the states' better rugby teams, Oct. 26 and claimed a 20-19 victory over the Gators. Undefeated through three games, the Deadbirds will look to remain on the right track toward their goal of claiming the Florida Collegiate Cup this fall.
The UNF Deadbirds' fast start is a bit of a surprise considering they lost three of their starters from last season, a significant blow to a team loaded with underclassmen. With their 2013 spring season, the Deadbirds will ultimately strive to return to Colorado for the National Championships. But, Trace Horevitz said, the Deadbirds have to take care of business during the fall season first.
On the pitch rugby can be a violent sport, however, the Deadbirds are dealing with a challenge off the pitch, as well.
"Another challenge that our entire team strives to improve on each week is our connection with UNF and getting support for our team," Horevitz said. "We are often told by campus groups, like Osprey Nation, that they won't make announcements about our games because we are only a club sport."
The Deadbirds are hopeful that with their recent successes on the pitch, those campus groups will begin reconsidering their position of not supporting the team.
If the Deadbirds continue to play lights-out rugby, the students, along with organizations like Osprey Nation, will have a difficult time shutting them out. Performance speaks louder than words, and right now, the Deadbirds are shouting.