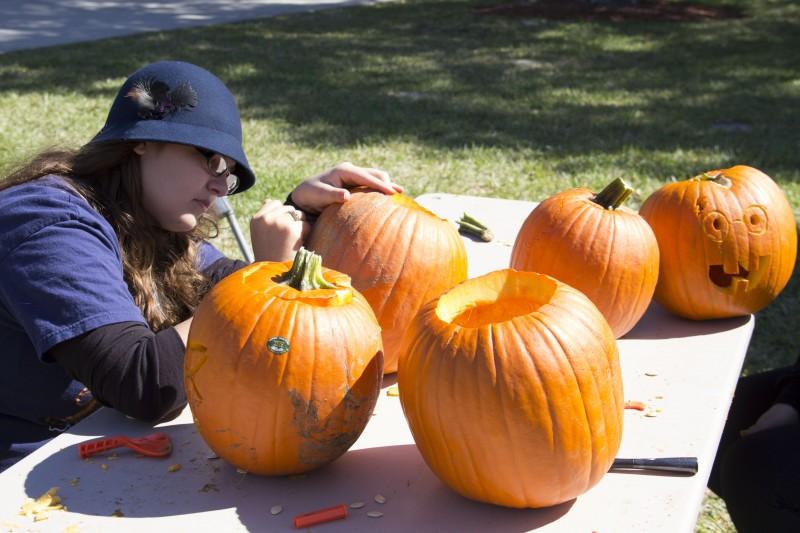 In celebration of Halloween, Osprey Productions hosted free pumpkin carving for students during Market Day today.
The insides of the pumpkins will go to the UNF Ogier Farm and Gardens for composting purposes.
Ross Keen, president of the UNF Organic Gardening Club, said the compost should be ready to be used as soil in two or three months.
Keen said the organization is excited to use this compost and glad for the opportunity to promote the gardens. The organization intends to plant pumpkins in the spring, so it will be able to provide pumpkins for future carving sessions.
D'anna Ramirez, a UNF nursing freshman, said it was happy OP brought Halloween to campus with all the pumpkins and its donation of the innards to the organic gardens.
Ramirez said she wouldn't have been able to carve a pumpkin this year without OP's event.
Alexandria Miller, a UNF psychology freshman, said it's a great opportunity for students to get festive without having to worry about the cost. She was happy with the ability to have fun and support the gardens, she said.
Nerilu Colon, a UNF community health sophomore, said she liked the opportunity to pick out the pumpkin she carved in the pumpkin patch and hopes OP continues the event every year.
But whether or not the tradition continues is up to next year's public relations committee chair, said Nick Tillem, the public relations committee chair for OP. He said he hopes the tradition continues.
Tillem said the one- to two-month process to make the event happen was worth it, and the best part was seeing students out having fun and bringing the childhood spirit back into Halloween.
Email Natalie Logan at [email protected].