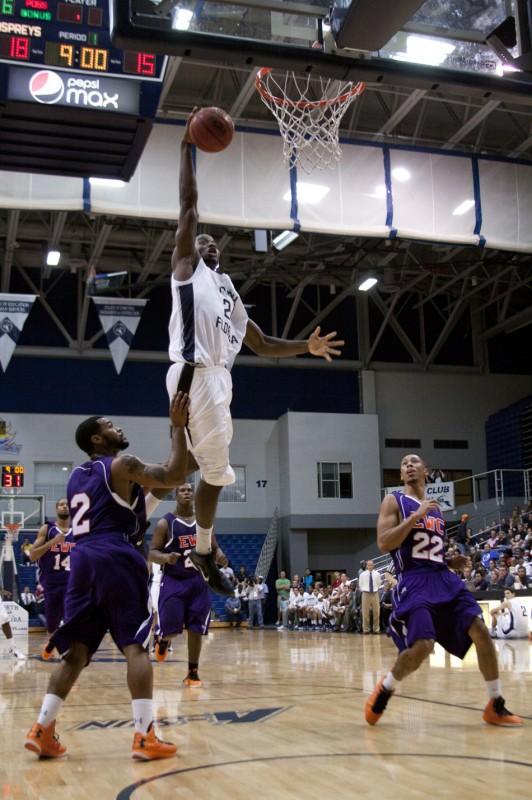 In the opening game of the 2012 season, the UNF men's basketball team had more than just a victory on their mind. Senior guard Jerron Granberry suffered the loss of his father earlier in the week and attended his funeral, along with head coach Matthew Driscoll, earlier in the day in Miami. But Granberry and the rest of the Ospreys were able to pull together and win in convincing fashion against Edward Waters College, 79-65.
"Emotional day as a program, and an emotional day for me personally," Driscoll said. "I give Jerron a whole lot of credit and I can see why his character is what it is just from being at the funeral today."
Coach Driscoll said that Jerron was able to remain stoic during the game help the team, contributing 7 points, 3 assist, and 4 rebounds, but became emotional after the game.
"We are a big family, we are always there for each other on the court and off the court," senior guard Parker Smith said. "I don't think anybody on our team has had to live through what Jerron had to live through this week."
Smith said the team wanted to get a win for Granberry and they rallied around him, and picked him up emotionally.
In the game, probable starters listed in the media guide were not the starters who came on the floor when play began. The leading scorer from last season, Smith, was on the bench until halfway through the first half.
Coach Driscoll said that Smith didn't start as a form of punishment stemming from, "a slight error," but declined to comment further.
"Not starting was punishment, but [not starting] wasn't anything I wasn't used to," Smith said. "I wasn't sure if I was going to play, I knew if I just had the chance I wanted to get out there."
When Smith got into the game, he picked up right where he left off last season. Smith scored 22 points connecting on 6-11 3-point shots.
Senior Will Wilson, who feed Smith many of the passes that lead to his six three-point field goals, tied a UNF record with 12 assist for the game.
UNF's freshmen also contributed key minutes in the first win of the season. Beau Beech started in the place of Smith and made the most of the opportunity, scoring seven points in seven minutes in one stretch, finishing with 9 points, and 4 rebounds.
"I was with the seniors so I didn't have a lot of pressure to make a lot of plays, but it was fun and exciting," Beech said.
Fellow freshman BaeBae Daniels was also a force in the paint, racking up 5 blocks on the night.
On military appreaction night UNF honored veterans, which included Granberry's father, before the game which helped to remind everyone in attendance that basketball is just a part of small part of what really matters in life.
Granberry was unable to be reached for an interview after the game, but coach Driscoll spoke on his behalf.
"His dad was a coach and a Vietnam vet who had a lot of great qualities," Driscoll said. "He taught is son this…don't expect to be praised when you do things well, but expect to be discplined when you do things wrong, that's what Jerron lives by."
UNF travels to Memphis to face the no. 17 Memphis Tigers on Mon. Nov. 12.