Second half slump dooms men's basketball against Savannah State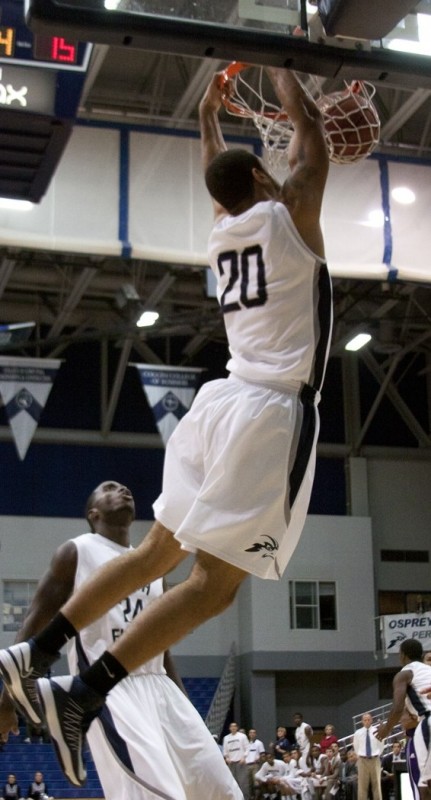 Two nights after scoring 66 points against the #17 Memphis Tigers, the UNF Ospreys men's basketball team managed only 47 points on 35 percent shooting against the Tigers of Savannah State, and dropped their second consecutive road game, 54 – 47.
Despite senior guard Parker Smith's 17 points on 5 of 7 field goals and 5 of 6 shooting from long range, Smith had limited assistance offensively as he proved to be the only Osprey with double-digit points. Preston Blackman led all scorers with 21 points for Savannah State.
"When you're on the road, you've got to sustain long runs," UNF head basketball coach Matthew Driscoll said. "I didn't think we answered them very well."
UNF (1-2) struggled offensively scoring 16 points in the second half (17-48 fg/game) after scoring 31 points in the first thirty minutes of the clash between two mid-major programs. Fifteen missed layups eventually cost the North Florida squad. The Tigers (2-1) out-rebounded the Ospreys 29 to 15 en route to their second home win in as many nights.
"We missed a lot of shots," Driscoll said. "We got the same looks they got, they made shots and we didn't."
The Ospreys second leading scorer Jerron Granberry notched 8 points on only 3 of 10 shooting from the field, including 2 for 6 from 3-point range. Point guard Will Wilson led the team with 6 assists, but turned the ball over four times, which also led the team.
"When the balls become live turnovers, it's hard to defend when you're transitioning down the floor," Driscoll said. "Give [Savannah State] credit for creating those turnovers.
While UNF caused 16 Tiger turnovers, Driscoll said the 15 turnovers Savannah State caused allowed them to run their transition offense. Speed in transition set the tone for the undersized mid-eastern athletic conference squad, whose biggest player is 6 foot 8 200 pound forward Jyles Smith.
"The biggest concern was we couldn't turn the ball over to let them transition," UNF senior shooting guard Parker Smith said. "In the second half that's what they were able to do."
Smith said the team felt good going into the second half, as UNF boasted a 31 to 22 lead. The non-conference meeting became a tale of two halves, however, as Savannah State outscored North Florida 32-16 in the final 20 minutes.
"It isn't like we weren't getting open looks," Driscoll said. "We have to find a way to get some points from the inside."
UNF's two senior forwards, Andy Diaz and David Juene, combined for 7 points on 3 of 12 shooting and totalled 5 rebounds between them. The Ospreys will need a boosted performance in the paint if they want to upend the Kansas State Wildcats Sunday at 2 p.m. (eastern) in UNF's third consecutive non-conference road game.
"The length of Kansas State is no different from the length of Memphis, or Savannah State," Driscoll said. "We've just got to find a way to get better balance."