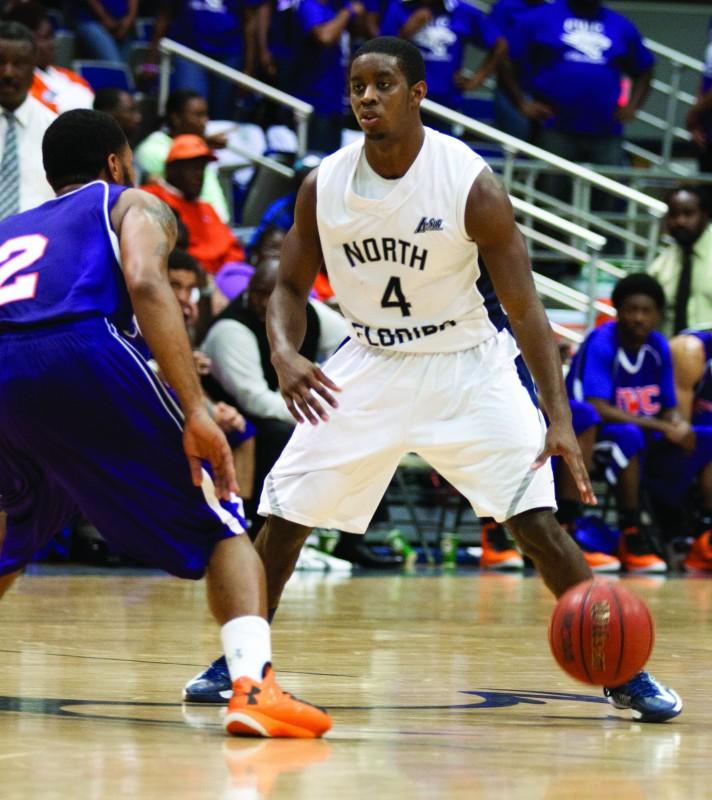 Will Wilson, UNF senior and men's basketball starting point guard, walks onto the floor, feeling the pressure of his team, the crowd, and the expectations of head coach Matthew Driscoll. Driscoll expects Wilson to lead his team and set up the offense with the unique and unselfish ability to dish out assists.
Wilson doesn't portray the role of the flashy, athletic point guard. He is a 5-foot-11, 175 pound blue-collar type guard — one whose results don't always show up on the stat sheet, but can impact the game tremendously.
"Will [Wilson] understands how to make your team better," Driscoll said. "He's not a guy that's going to make a whole bunch of buckets, but he gets into space, and most importantly he gets guys shots."
Defensively, Driscoll said, Wilson causes havoc for opposing teams, but these abilities don't always show up on the stat sheet either. Wilson tallied 24 steals last season, but the team was last in the league in that category.
"Point guards usually aren't the team leaders in steals," Driscoll said.
Setting up the defense in a position to get steals, however, is a major component of playing the position. If every man isn't on the same page, then the onus is on the point guard.
Wilson said that it's his job to make sure everyone on his team knows the defensive plays that Driscoll selects.
UNF could spend the first half of a game running man-to-man defense, which was its majority defense last season. If Driscoll wants to switch to a zone defense, then it's Wilson's job to relay the message to his teammates on the floor.
"I'm so hard on him because I was a point guard — anything that goes wrong, I get on Will [Wilson]. If the bus breaks down, it's the point guard's fault."
"I like to set the tone for the team defensively," Wilson said. "If we're switching from the man to the zone, and there's a guy who's confused, nine times out of ten it's the point guard's fault. You just make sure that you're communicating to everyone else."
Wilson's veteran leadership and defensive abilities earned him an average of 21 minutes per game last season, including 671 total minutes and starting all 32 games.
Wilson dished out 3.2 assists per game last season, which placed him second on the team in the category. He averaged only 2 points per game, while shooting 36 percent from the field, 36.4 percent from beyond the arc and 42.9 percent from the free-throw line — numbers that both Driscoll and the Wilson, a Vero Beach native, agree he must improve upon.
Driscoll said the ideal stat line for his point guards at the end of the year would be a 2.5 to 1 assist turnover ratio, shoot 85 to 90 percent from the free throw line, and shoot 40 percent in three-point field goals.
"My teammates and coaches expect me to be able to take and make the open three pointers," Wilson said. "When the other teams are fouling, I want to be able to step up and hit my free throws."
Wilson said that he's shot more this offseason than ever before in his time at UNF. Driscoll wants him to be more aggressive on the floor in taking shots, especially open jump shots. He said he's confident in Wilson's ability to knock down the open three-pointers.
"He's really gotten better at understanding where the defense is based on our scheme," Driscoll said. Driscoll also expects Wilson to improve in locating the most productive shooter, aka "the hot guy," this year.
"When a guy makes a shot, you want to try and get him another one," Driscoll said. "I wish they could control the game a little more without me controlling it for them."
Wilson's stability characterizes what Driscoll said he looks for in a point guard, and his ability to pass the ball is what defines playing point guard. Wilson wants to lead the league in assists to turnover ratio, something he said he prides himself on as a point guard.
But sometimes, possessing the ability to score from the number one position on the floor creates real problems for opponents.
That's where 6-foot-2 true freshman point guard Ray Rodriguez comes in. Playing last season at Hialeah Gardens High School, near Miami, Fla., Rodriguez averaged 18 points and 10 assists per game. In 2011 Rodriguez earned first team All-Dade County Honors, per selection by the Miami Herald, and led his team to the 8A High School State Championship.
"I tend to shoot a little more than Will [Wilson] does," Rodriguez said. "My role is to not force anything, but coach has given me the green light [to shoot] since I got here."
Rodriguez' length and ability to shoot the three from anywhere on the floor contributed to Driscoll's decision to sign the Florida native. Driscoll also covets Rodriguez' passing ability and quickness in handling the ball. The Rodriguez and Wilson duo is something Driscoll said he's never had as a coach at UNF. Wilson provides defensive prowess and Rodriguez brings natural shooting ability.
"I've always had the pass-first mentality," Rodriguez said. "I would consider myself more of a point guard with the ability to shoot the ball."
Rodriguez said when he first arrived at UNF his conditioning was sub-par, but the running and the up-tempo pace of the offense contributed to his now improved conditioning.
"I feel like I could play a full game if I had to without getting tired," Rodriguez said.
In the opening game of the season against Edward Waters, Wilson led the team in minutes played with 28 and was productive distributing the ball, tying a school record with 12 assists, in the victory.
Rodriguez said defense is his biggest weakness, including knowing who to cover. He said he has to become more confident on the defensive end of the floor, know how to close in on a shooter, pick up his on-ball pressure, and improve his overall defensive awareness.
"It was a big adjustment coming into college," Rodriguez said. "At the end of the day, defense wins championships, and we're trying to win championships."
Driscoll said that UNF might experiment with running both Wilson and Rodriguez and splitting the number one spot on the floor, or moving Rodriguez over to the shooting guard position, something Driscoll said he experimented with as an assistant coach at Baylor.
However the playing time at point guard plays out, the position directs the offense and defense; he's the captain, the leader, and go-to guy. Men's basketball hopes with Wilson running the floor and Rodriguez backing him up, it will be able to play its way into capturing the Atlantic–Sun Championship.