Column: Basketball on a boat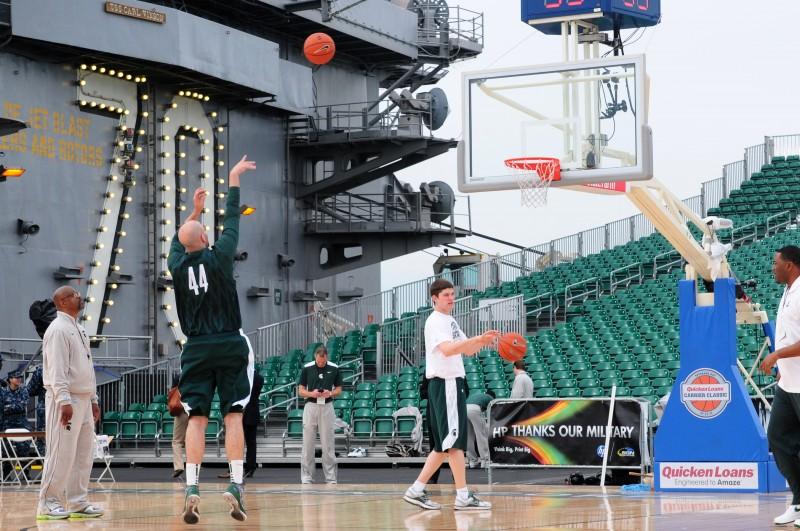 After the cancellation of the Nov. 9 game between Ohio State versus Marquette aboard the U.S.S. Yorktown, and the cutting short of Georgetown vs. Florida — that same night after halftime, due to condensation on the court aboard the U.S.S. Bataan — is it time for college basketball to abandon ship?No way.It would be a grave mistake to eliminate carrier games — they're great attention grabbers that could attract more fans to the sport.
What do schools like Florida and Ohio State have in common? They've consistently produced top teams over the last decade. Playing a high-profile matchup, such as a carrier game against a quality opponent, allows a basketball team to capture some relevance during the final weeks of football season.
NBC Sports, the television network for the games, may be upset. But they can only blame themselves. On paper, NBC Sports did a great job assigning back-to-back primetime slots on a Friday night, but they didn't have the foresight to avoid the condensation issue. This can be easily remedied by scheduling the games during the daytime.
The Buckeyes and Golden Eagles were given a 7 p.m. tip off in Charleston, South Carolina. According to weather.com, the city's average low temperature for early November is approximately 50 degrees. On game night, the observed low was 34 degrees.
Georgetown and Florida were scheduled for a 9 p.m. tip off in Jacksonville. According to weather.com, the low was 45 degrees, while typical First Coast weather in early November averages lows of 51 degrees.
These yearly averages indicate and could have helped predict poor seasonal weather trends that should have been accounted for when scheduling the games. Nothing too out of the ordinary happened weatherwise, it was simply poor planning.
Carrier games should be viewed as works in progress. College basketball has found a great way to connect with the military on Veteran's Day weekend. Aside from the extraordinary visuals created by the stands and court on the deck of a carrier, the games' proceeds go toward charitable organizations, such as the Wounded Warrior Project.
Some argue that the Veteran's Day salute can still occur, but should follow Michigan State and UConn, who opened at Ramstein Air Base in Germany, by playing these games indoors at military bases. While still meaningful and more practical, these games lack the uniqueness and attraction of games played on a carrier.
According to militarytimes.com, talks are well underway for 2013 carrier games. Rumors about a potential "Carrier Madness" tournament, involving as many as eight teams in 2014, have been circulating.
Perhaps schools like Kentucky, North Carolina, and Duke don't need to deal with the potential headaches that can come with a carrier game, but if these schools turn down future offers, schools like UNF should jump at the opportunity.
College basketball has created an early season draw and should not be discouraged by this year's disappointment. Make the necessary adjustments and move on.