UNF's longest tenured head coach begins another season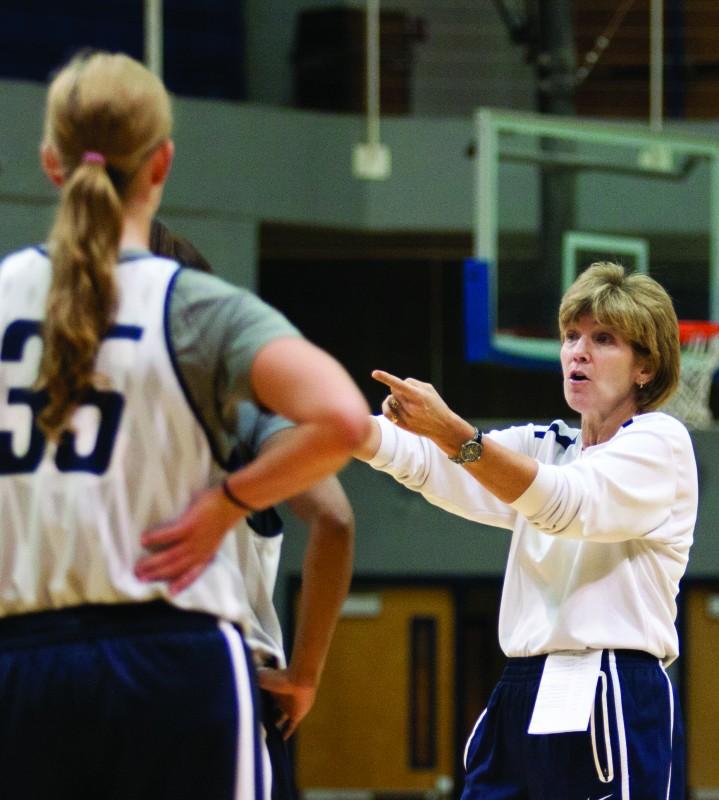 The UNF women's basketball head coach Mary Tappmeyer is embarking on her 21st season — she's been with the UNF women's basketball team since the beginning and has had both fond and disappointing memories with the squad.
Prior to landing the job at UNF, Tappmeyer went from graduating from SUNY-Cortland, to Lamar University in Beaumont, to Texas as a graduate assistant, and then to the University of Missouri-Rolla in 1984, where she landed her first head coaching job.
"I don't forget where I came from," Tappmeyer said.
Tappmeyer coached at Missouri-Rolla for seven years, where she became the winningest coach in program history, an honor she stills holds today. Through her time at Missouri-Rolla, she learned how to manage a team and the personalities that come with it.
Learning the odds and ends of leading a basketball program, such as at Missouri-Rolla, assisted Tappmeyer as a developing coach. When UNF came calling prior to the 1992 season, Tappmeyer knew she had an opportunity but also a challenge.
UNF didn't have a women's basketball program then, so she would be building a program from scratch.
Tappmeyer led UNF from the lowest ranks in basketball, to the Division II Peach Belt conference in 1997, to where the program is today, the Atlantic-Sun conference in Division I college basketball.
"To see how much [UNF] has grown, it's just been a great, great run," Tappmeyer said.
Starting a program from nothing provides challenges not many coaches face. One such challenge included working under the direction of four different athletic directors in 21 years.
Tappmeyer said she had to become a better manager after Athletic Director Lee Moon was hired in February 2009, because he required her to add assistant coach Nancy Miller, assistant coach Keunta Miles, assistant coach Erica White and director of basketball operations Stephanie Tileston to her staff.
"If you do it long enough and you truly believe in what you do, you just stick to what you do," Tappmeyer said. "[Moon] is very involved in the basketball programs, he's a little bit of [both hands on and hands off.]"
While Tappmeyer continues to build up UNF's women's basketball program, her plan wasn't always to coach basketball. Tappmeyer had several other career options, one of which was to go into medicine, and another was to pursue a career in golf. Neither option came to fruition, however, by the time Lamar University hired her a graduate assistant.
"Because I was so young, I was very disciplined and very demanding," Tappmeyer said. "I unfortunately played for four coaches in college. Four coaches with four different coaching styles, so I took bits and pieces of what I liked and what I didn't like."
Tappmeyer's record proves that she's a strong basketball coach for the program that she's built. Top statistics on her resume include consecutive appearances in the 2003-04 Division II NCAA tournaments and a runner up finish in the 2009-10 Atlantic-Sun Conference.
Tappmeyer's distaste for losing is also a driving force behind her team's progression and her coaching mentality.
"I hate losing more than I like winning," Tappmeyer said. "When a game's over, I'm thinking about all the things that we have to do better — the things that we did wrong that I really need to fix."
UNF's head woman in charge has 379 career wins, 284 at UNF, and is one of a handful of coaches to stay with the program through three transitional periods of competition, from NAIA, to Division II, then finally to the Division I ranks.
Through all of the struggles and a long coaching career, retirement hasn't entered into her mind just yet.
"If I ever got to the point where [losing] didn't bother me, I'd have to think about it," Tappmeyer said.
For UNF's 2012-13 season, Tappmeyer only thinks about hoisting that A-Sun championship trophy at the end of the season — that would cap an accomplished career.