The power of a mustache: Mo Jax seeks to spread men's health awareness to the Duval community.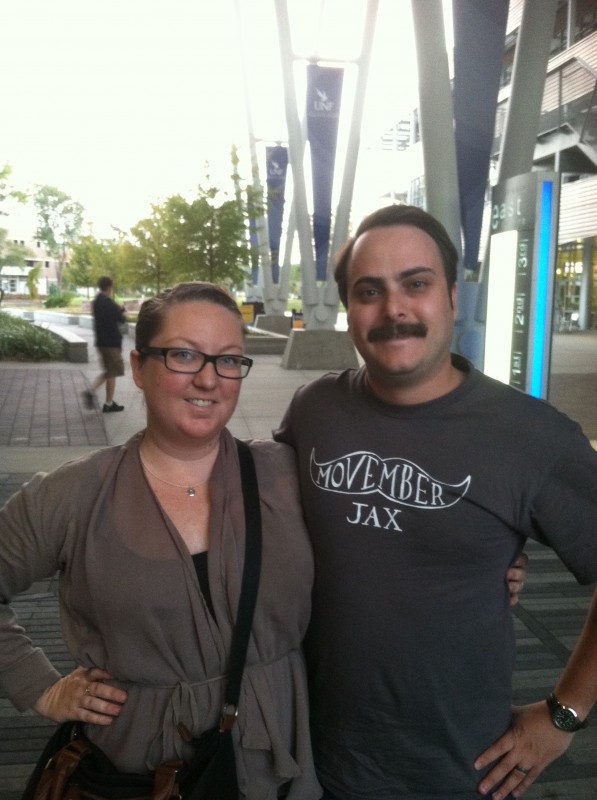 If grown and maintained properly for a month, a mustache can be quite the sight, and an easy conversation starter.
Using the power of well-grown mustaches, the Movember Foundation seeks to spread awareness for men's health issues such as prostate and testicular cancer.
One in two men will be diagnosed with cancer in their lifetime, and a staggering one in six men will be diagnosed with prostate cancer in their lifetime.
While women often publicly address their health issues, men can be apathetic toward their own health issues. The Movember Foundation seeks to change that.
Those who choose to participate in Movember shave their faces Nov. 1, and grow a mustache for the remaining 30 days to raise men's health awareness.
The Movember Foundation began with a mere 30 contributors, called "Mo Bros," in Melbourne, Australia in 2003.
The movement has since spread across the globe. Currently, Movember campaigns can be found in Australia, New Zealand, the US, Canada, the UK, South Africa, Spain and several other countries.
In 2011, over 854,000 members of the Movember Foundation raised an astounding $126.3 million in funds for men's health issues, specifically for prostate and testicular cancer initiatives.
The Jacksonville chapter of the Movember Foundation, called Movember JAX or Mo JAX, hopes to bring the Australian-born awareness month to our city and raise money for men's health initiatives.
Sean and Sarah Collins, both UNF alumni, started Mo JAX in 2009 to bring together everyone involved with Movember in the city of Jacksonville under one huge network.
"I just thought this was kind of a great way to participate in [Movember] and do something good within the community as well," Sean said.
When the Mo JAX network begun, it had only 25 people who raised $1,200, but their donation and participation was enough for the Movember Foundation to take notice. The following year, the foundation placed Sean in charge of the Jacksonville chapter.
Sean said the chapter raised $15,000 in 2010, and a whopping $31,000 in 2011, and continues to grow every year.
"I think one of our big catalysts was in 2010 [when] Intuition Ale Works came to us and created a special beer for us and hosted a lot of parties and different things," Sarah said. "That was a really big supporter that helped us meet a lot of new people and grow."
Mo JAX hosts several events throughout the month of November in correlation with many Jacksonville-based businesses such as Intuition Ale Works, Mossfire Grill and Mellow Mushroom.
Typical events hosted by the network involve games, raffles, food, drinks, survivors and even special guest appearances from people such as the Jaguars offensive-line, who recently came out to participate in one of Mo JAX's events.
The Mo JAX network has already raised over $10,000 this year, and donations continue to pour in.
The group encourages everyone to get involved in Movember, and though the mustache growing is exclusive to Mo Bros, Mo Sistas can also participate or volunteer in all of the networks events, as well as helping to spread awareness.
"As long as you're telling people about it, that's really the number one thing we want to do," Sarah said.
UNF's own rugby team, the Deadbirds, began participating in Movember during their 2010 season, teaming up with Mo JAX's network each year since.
Steven Hill, who graduated this past spring, first got the idea in 2009 when he saw his roommate growing a moustache for Movember.
"My grandfather and my uncle passed away from cancer, so it was something that was real close to me," Hill said. "I really wanted to do [Movember], and next year I brought it up to the team and we ended up raising $300 the first year."
In 2011, the team received even more donations, raising over $500. This year, the club hopes to continue their streak and contribute further.
Alex Mross, journalism junior and president of the Rugby Movember club, said he hopes Movember will raise awareness for men's health issues.
"I think Movember is such a cool idea because not only is it bringing attention to it, but [the moustache] is such a talking point, because they do stand out," he said.  "It really does bring up conversation and really gives you a gateway to talk to people about something that's really important."
Email Zach Sweat at [email protected]
Anyone interested in getting involved with the Movember Foundation to raise men's health awareness should get in contact with Mo JAX via their website or sign up on the official Movember website.