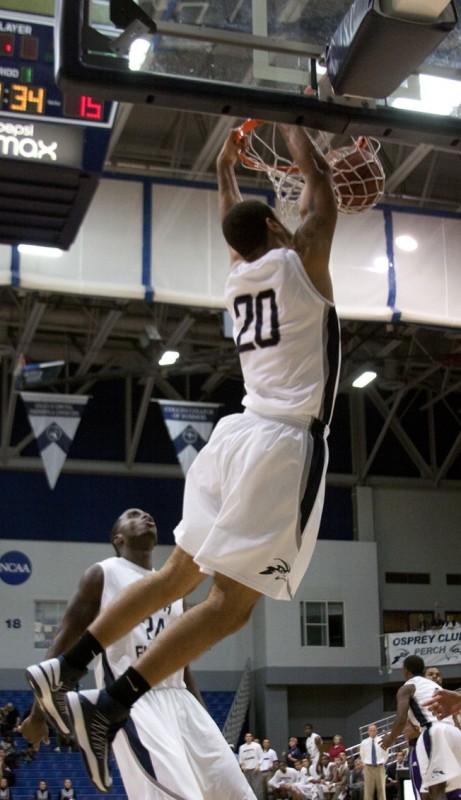 UNF's men's basketball team is off to its typically slow start, mostly due to their difficult road schedule against top-tier teams. But playing strong competition can reveal a lot about a team, including strengths and weaknesses. UNF showed they can hang with the big boys of the NCAA, playing well in spurts against Memphis and FSU, but if UNF wants a shot at the A-Sun Title they will need to make a few key improvements. Here are five such keys to avoiding defeat as the season progresses.
Son of a bench
Against No.17 Memphis, UNF was playing the Tigers tight — then, head coach Matthew Driscoll had to spell his starters and go to the bench. The bench players were unable to keep Memphis in check, and the game quickly got out of hand. Outside of the five senior starters, UNF will need to increase production from their bench, which consists of three freshmen. Junior Travis Wallace is UNF's go-to-guy off the pine. Wallace is a high-energy player on both ends of the floor who usually won't create his own shot, but can grab offensive and defensive rebounds and score points on put-backs and dunks. Wallace is averaging 10 points per game (2nd on the team), shooting 50 percent from the field and 73 percent from the free-throw line. Freshman Beau Beech could potentially take over Wallace's spot as the offensive leader from off the bench, as the season continues. Beech is a 6-foot-8 hybrid player who can stretch the floor and score inside and outside. Beech (8 points per game) can score off the dribble, or hit spot up threes, as he showed when he led the team in scoring and rebounds (15pts-7reb) against Kansas State Nov. 18. If he continues to develop confidence and add variety to his offensive game, Beech could bolster a sluggish second unit.
Clean the glass
Driscoll likes to go small and mix in zone defense, two strategies that don't lend themselves kindly to big rebounding numbers. The team's current rebound -13.4 deficit has a lot to do with playing bigger, stronger teams with superior athletes, but it could easily become a trend if the team doesn't make rebounding a priority.
Feed PS3
The Sleepy Eyed Assassin, Parker Smith, is the heart and soul of UNF's offense. Smith is a high volume shooter who needs a lot of shots to be effective. PS3 is shooting over 50 percent from long distance, and has the type of range that garners defensive attention as soon as he steps out of the car in the parking lot. UNF needs to continue to run plays for Smith and get him as many shots as possible. When he is hot, he is the only player on the team who can draw double-teams and create easy baskets for his teammates. Smith does have the tendency to force shots sometimes, though, so if Smith could utilize a pump-fake and drive the ball into the paint, he could be even more effective.
Ghosts in the post
UNF is a good three-point shooting team, but lacks a dominant post presence. Senior Andy Diaz, who was supposed to be the team's premier post up player, has not been able to consistently hit his jump-hook so far this season. Outside of Diaz, no other player has stepped up and demanded the ball in the post, and it has made life for UNF's three-point shooters difficult. Defenses have been able to stay on their man with no need to double the post. If UNF wants to end its current four-game losing streak, it will need to find a more balanced inside-outside scoring attack.
Get on Point
Senior Will Wilson has stepped into the starting point guard role this season and played well. He improved his assist numbers from last season, and developed as a solid rebounder for a point guard (6.4 assists per game, 3 rebounds per game), but hasn't been able to put the ball in the basket. Wilson has a knack for missing easy shots around the basket, and has shot only 27 percent from the field out of 15 attempted shots. Freshman point guard Ray Rodriguez was supposed to add a scoring pop to the position, and has showed range in practice and preseason, but hasn't been able to blossom offensively in limited playing time (51 min) during the season. Wilson must continue to pass and rebound well, while improving his shooting, and Rodriguez will need to work on ball handling to earn more playing time and give the team more scoring production from the one position.
Honorable Mentions: Improve free throw shooting – Give Bae Bae Daniels more playing time – Perfect zone defense