New concussion research tech at Virginia Tech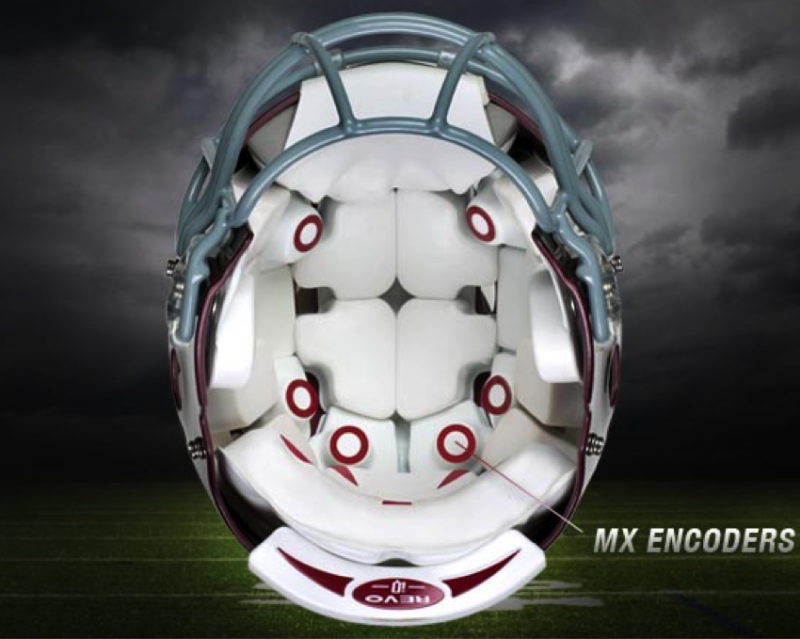 Over the past few years, concussions have become an issue of widespread media panic, but what tactics are being used to combat this issue today? Specifically, what are some technologies in use that further concussion research?
Virginia Tech Assistant Athletic Trainer Brett Griesemer gave The Spinnaker an inside look at the unique concussion related technology used by the Hokies football program that furthers both player safety and research.
H.I.T.S.
Virginia Tech has received national attention for being at the forefront of concussion research in football. Their most famous piece of technology is the H.I.T.S., or Head Impact Telemetry System, which was instituted at the school in 2002 by Dr. Stefan Duma, the head of Virginia Tech/Wake Forest School of Biomedical Engineering and Sciences. This technology is in use at only a handful of colleges and has yet to be implemented by the NFL.
At the beginning of each season, the Hokies training staff picks approximately 30 players to participate in their research efforts. Each player has the right to decline participation, but nearly all agree to take part, according to Griesemer.
A device that holds six sensors called accelerometers, and one wireless transmitter, is then fitted into each player's helmet. It is placed between the helmet's padding and could be described as a padded, white horseshoe shape with the open end facing forward.
The six accelerometers measure the force (in g-force units) and location of hits to a player's head on each play by sending a signal to an antenna connected to computer on the sideline. Griesemer provided the following examples of units of g in real terms: the head suffers a force of 5g during a jumping jack, 30-40g from heading a soccer ball, and approximately 80g resulting from big hit in football.
Based on 10 years of research that includes practice time, the Hokies training staff has set 98g as the threshold of an increased likelihood for concussions. Griesemer is armed with a beeper that is set off each time a player sustains a hit of 98g or greater.
"H.I.T.S. helps our athletic trainers keep an eye on the players," Griesemer said, "It does not diagnose concussions. 98g hits do not guarantee that a player will suffer a concussion. A player can get a concussion from a hit that is only 50g while another player can take a 150g hit and not suffer a concussion. Genetics, a player's injury history, and other factors come into play when a concussion is sustained."
When Griesemer is alerted to a 98g hit, the Hokies training staff will closely monitor the player for concussion symptoms such as personality change, headache, balance loss, disengagement and body language. If a player exhibits signs of a concussion, he is given a SCAT2 test (Sideline Concussion Assessment Tool), a universal procedure that quizzes the player on the date, their location and patterns of words or numbers.
The live feedback provided by H.I.T.S. may be its greatest feature, but the system also accumulates a large database for researchers. Virginia Tech can look up the force and number of hits taken by a single player or position for a specific date range. The school can offer data on the starting offensive guards' top 10 hardest hits versus the starting outside linebackers' top 10 hardest hits over the course of three weeks.
This data has helped Virginia Tech develop a research project that rates the safety of football helmets. In 2012, three helmets were given the best overall rating of 5-Stars: Riddell 360, Rawlings Quantum Plus, and Riddell Revolution Speed. The Hokies require that each one of their players use the Riddell Revolution Speed helmet to ensure maximum protection.
H.I.T.S. is not a concussion prevention technology, but the information it provides allows trainers and medical experts to make more informed decisions and become more alert evaluators on chaotic gameday sidelines.
Balance Force Plate Testing
Football players at Virginia Tech also take a Balance Force Plate Test before and after each football season. During this test, the player is asked to stand on a scale that measures their center of gravity. The player must keep a black dot, reflecting the player's balance point in a graph, centered on a monitor connected to the scale for a 20 second period. Two tests are conducted, one with the subject's eyes open and one with their eyes closed.
Balance Force Plate Testing is administered on the second day after concussion symptoms are present. If the player has suffered a concussion, the measurements will differ from the player's baseline test in the preseason. In cases where symptoms persist, the test is not administered again until seven days after concussion signs first appeared.
Functional MRI (fMRI)
In 2011, Hokies players that were selected to participate in the H.I.T.S. project were also asked to take a Functional MRI (fMRI). The goal of this program, like the Balance Force Plate Test, is to set a preseason baseline and evaluate postseason results. The athletes are placed into a MRI machine and have their brain scanned while engaging in an activity such as a video game or test.
"Getting a visual of the brain allows us to be more accurate in assessing a player's condition," Griesemer said.
The fMRI is still in its early stages of use with the football program, so its full impact has yet to be felt.
Closer to home
"A lot of the new technology out there, similar to what Virginia Tech is using, are great resources that our profession is able to use to evaluate and determine whether someone has sustained a concussion," said Fred Burnett, the UNF Head Athletic Trainer. "It really helps us keep the athletes safe as they progress to getting back on the field."
UNF may lack a football program, but it still has a stringent approach to concussions.
"At UNF," Burnett continued,  "we currently use Neurocognitive Testing (which covers attention span, memory, language function, and judgment) on a computer to baseline test all of our student athletes. If they do suffer a concussion, we would test them again and make sure they return to baseline before they return to sport. They must also pass an exam by a physician and all of their symptoms must be clear before they are able to return to activity."
Conclusion
Despite the panic over the future of football, the game continues to grow.
"Football is one of the biggest sports we have so I don't think it will ever go away, but people will be more aware and there will be better healthcare provided to athletes," Dr. Michelle Boling, from the UNF Brooks College of Health, said.
Dr. Boling is a member of the Northeast Florida Concussion Task Force, an organization that aims to develop concussion education for primary care physicians, coaches, athletic trainers, athletes and parents. As society continues to gain a better understanding of concussion management and treatment, athletes will become more informed of the risks they take each time they step onto the field.
Playing the game is a choice, but for those who continue to play, the work being done at places like Virginia Tech will ensure that their safety will improve with each passing season.