So What's Your Story? Dr. Tes Tuason comes to UNF from across the globe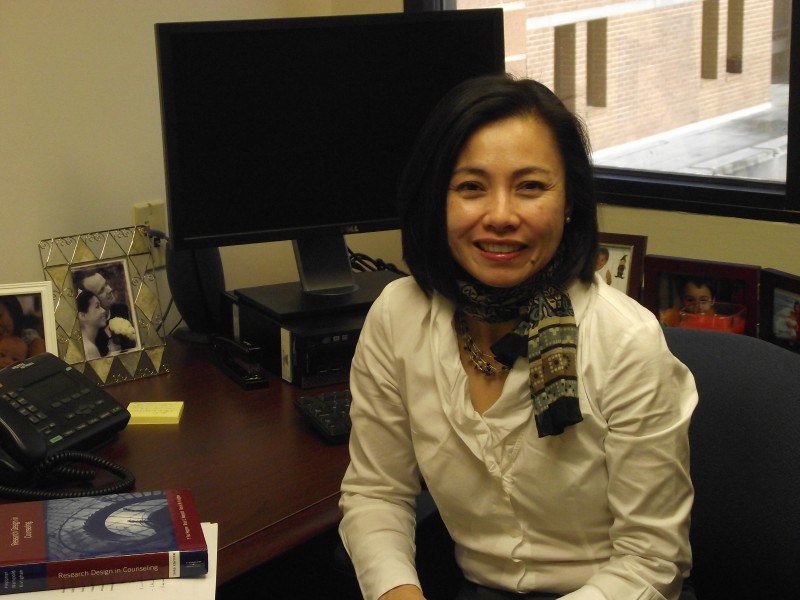 How do some people who were born in extreme poverty become rich, while others remain poor?
This is the question that Dr. Tes Tuason, associate professor at the University of North Florida, has sought to answer during her career.
Tuason was born and raised in the Philippines in the city of Baguio, a highly urbanized and densely populated city located in the province of Benguet in the northern Luzon Island of the Philippines. She is one of six children.
Both of Tuason's parents were teachers in Baguio. Her father taught physical education and her mother was a Spanish teacher.
Though both of her parents worked in the city, Tuason said she grew up very poor and remembered being doubtful of her future, simply because of her poor conditions.
Despite her doubts, she eventually left Baguio and went to Manila, the capital of the Philippines, to study at Ateneo de Manilia University.
"I applied for a scholarship to go to Manila [Ateneo de Manila University], which is a Jesuit university," Tuason said. "My parents didn't even know that I applied. I applied for a scholarship, finished college in Ateneo and then got my Masters in counseling."
After she graduated, Tuason taught third grade boys and counseled at the University.
At age 26, Tuason decided she wanted to further her education, but found applying for school outside of her home country was challenging and expensive.
"The very first year, I didn't get anything. No admissions, no scholarships. I was so angry because I thought I was good at what I did," Tuason said. "I remember this very clearly. One of my younger brothers told me, 'The eleventh commandment is timing, says the Lord. So why don't you just try again?'"
Tuason took her brother's advice and received three scholarships during the next year of applications, including aid from a wealthy family in the Philippines.
She traveled to America to get her Ph.D. in counseling at the University of Albany in New York, which has the fourth best counseling program in the U.S.
This was her first time out of her home country. New York was a much different world, Tuason said. She had to adapt to the culture shock and the cold climate.
Upon completion of her doctorate from Albany and post-doc at Utah, Tuason briefly returned to the Philippines, but said she felt as though she would better use her newly gained education back in the U.S., so she soon returned.
"Perhaps from my time here in the U.S., I came back [to the Philippines] with different eyes and I grew up," Tuason said. "[The Jesuits], in a sense they want to control you. It is very traditional and very hierarchal. When I was teaching things I learned in the U.S., they said, 'Oh don't teach anything that's new, just teach whatever it is we've been teaching the past 20 years.'"
Tuason eventually made her way to UNF with her husband, who also is a professor at UNF, and their two sons.
She now teaches in the Clinical Mental Health Counseling program within the Department of Public Health, instructing graduate students on how to become counselors.
Tuason is also conducting a study titled From Oppression to Opportunity. The study focuses on first-generation college students who may be experiencing vulnerabilities or may be at risk of not finishing college. The main goal of the research is to help first-generation college students graduate by figuring out what helps them remain in school and persevere.
Apart from her teaching, Tuason is an active participant in the Filipino Student Association and said she thoroughly enjoys helping the students to get to know their culture and adapt to the college lifestyle at UNF.
Email Zach Sweat at [email protected]