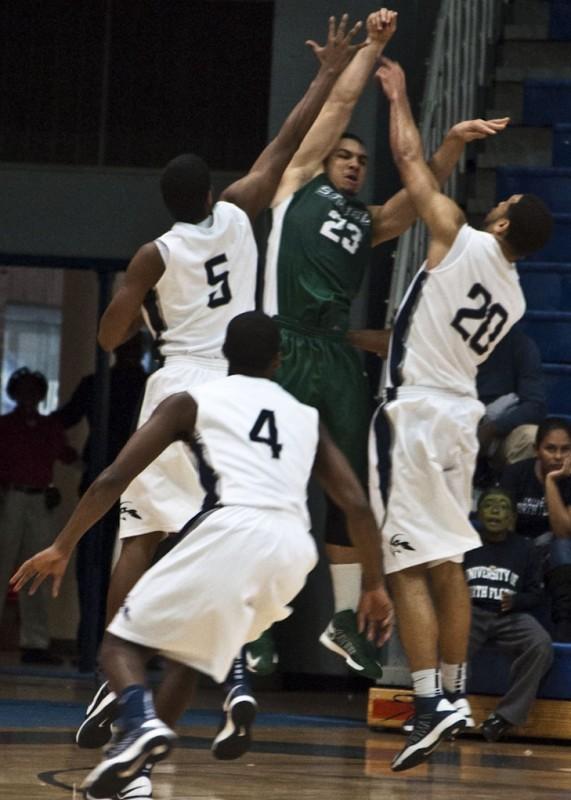 Kennesaw, Ga. — The UNF men's basketball team was able to escape the Peach State with a 60-52 win over the Kennesaw State Owls Thurs. night.
With the win UNF (10-15, 5-7 A-sun), which was struggling in the past few weeks in conference play, pulled into a tie for seventh place with East Tennessee State.
KSU (2-21, 1-10 A-sun) started the game on a 9-0 run but UNF was able to answer with a 9-0 run of its own and tie the game with 12:07 left in the first half.
"I think the first thing you have to do when playing in this league on the road is to not get over excited," head coach Matthew Driscoll said. "We were able to get stops and get back into the game even though they started on that run."
With 11:28 left in the first Andy Diaz picked up a technical foul. KSU's Nigel Pruitt missed both technical free throws and UNF was able to stop KSU from scoring on the ensuing offensive possession.
On the next posession Parker Smith hit a mid-range jumper to give the Ospreys an 11-9 lead. After Smith's jumper, the Ospreys never trailed.
"We don't ever want a guy to get a tech," Driscoll said, "but it definitely gave us some extra energy."
UNF went on a 14-6 run in the first six minutes after the technical foul. In that time span KSU's Delbert Love picked up a technical foul after fouling Smith during a shot leading to Smith making three of four from the line and another offensive possession for UNF.
UNF took a 29-22 lead into halftime.
When the second have began, the game continued to be physical, but no technicals or altercations followed.
"I think the officials did a great job on both sides tonight," Driscoll said. "They did a great job making sure that it didn't out of hand on either side."
The foul count at the end of the game was in UNF's favor as KSU was called for 23 fouls to UNF's 13.
Continuing to make a name for himself in his freshmen year, BaeBae Daniels had a strong performance for UNF in the game. In 14 minutes of play off the bench Daniels recorded nine points with a perfect shooting percentage (4-4, 1-1 3pt), four rebounds and a block.
"BaeBae gave us a great lift," Driscoll said. "He's such a gifted athlete, he's just gotta learn. Forwards are the slowest to pick up the game just because they're not used to moving from inside to the outside and back. They're used to dominating in the post in high school, but he's coming in with Andy (Diaz) and he's learning."
Smith, on the other hand, continued his cold streak from the field but was able to make up for it at the line. Smith shot a below-average 25 percent from the field (3-12, 1-8 3pt) and managed to hit just one three-pointer in the game, finishing with 14 points. Smith was able to save his offensive stats by hitting seven of eight at the line.
UNF shot 70 percent (16-23) from the charity stripe in the game, three points above its season average of 67 percent. The team closed the game out by hitting 13 of its last 16 free-throws.
In back-to-back games UNF has been able to pull out wins despite having poor offensive showings.
"I told the guys you could win with bad offense, the problem is I think they took it wrong," Driscoll said. "So I just told them 'hey I didn't tell you guys to play bad offense so we can win, I said if we do play bad offense we still have a chance.'"
In the last two seasons and including the last two games, UNF is 12-6 in the month of February.
"You know some people call it the dog days of February, but we call it the dawg days of February," Driscoll said. "Discipline and attitude wins games. Yes we believe in it and we think we can win."
UNF will head to Macon, Ga for a game against Mercer at 4:30 pm on Sat. In the teams' first meeting Mercer dominated UNF with a 66-47 win in Jacksonville. The Bears out-rebounded UNF by nine, had five more steals, shot 51 percent (26-51) from the field and hit seven shots from beyond the arc.