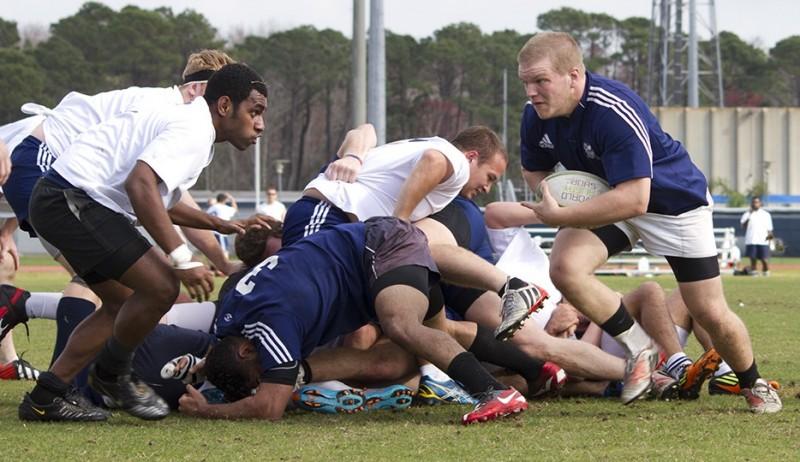 The UNF rugby club traveled to Tallahassee, Feb. 2 and rucked up Florida State University 35-12.
The match was an out-of-conference game, but the two schools were smashing back in forth as the friendly has quickly turned into a rivalry over the past years.
Club president Alex Mross said the rivalry started before he joined the Deadbirds, but it has grown and continued since he's been on the team.
"I just feel that they don't run a program the right way," Mross said. "You should honor your commitments and there have been multiple incidents where they haven't done that and to me they haven't acted like a professional rugby club."
UNF started the match off completely dominating both sides of the ball. Within fifteen minutes the Deadbirds amassed a 21-0 lead over FSU.
Although UNF never gave up the lead, FSU made a late push at the end of the first half and carried momentum into the second half. Penalties by the Deadbirds allowed FSU to make an attempt at a comeback, but UNF was able to get back into the game and continue its strong play.
Rookie Aaron Shellito, known by his teammates as Shelly, saw his first action as a Deadbird in the second half of the game. Shellito played in the teams B-side game and was one of only three choices for subs.
"When the coach handed me the jersey and said I was going to play I just thought that being apart of the team was great," Shellito said. "Too be honest I was a little scared. These guys were all bigger than me so I didn't do a lot of solo tackling, mainly just a lot of group tackling."
Shellito said that it was great to experience the rivalry and that there was definitely a high-intensity level.
Mross, now in his fourth season with the Deadbirds, had a different appreciation for the win.
"Man it felt great to kick their teeth in," Mross said. "We've always been the smaller team and have always had that chip on our shoulder. We like being the little school that beats up on the big guys"
UNF will be on the road as it takes on Eckerd College this weekend. The game is the first in the team's conference schedule. Last season Eckerd gave UNF its toughest challenges, taking the team to the wire in two meetings last season.
With the start of the season around the corner expectations are high for the team after last years fourth place finish in the NSCRO national championships and a second place finish in the Florida Cup this fall.
"There's no reason we can't go back to Colorado," Mross said. "We should go undefeated in the spring."
"We are definitely going back to Colorado," Shellito said. "I want to bring back that trophy."