Basketball Recruits: The next wave
In the middle of November, 2012, early in the signing period, the UNF men's basketball team announced it had signed three recruits.
The incoming group has the task of replacing one of the most decorated UNF basketball classes in program history.
The current senior class at UNF led the team to its first A-Sun playoffs, the Conference Championship game in 2011, and to its best record in Division I program history last season. They have also provided 47 percent of the team's scoring this season.
The 2013 recruited class features two high-scoring point guards and a 6-foot-11 natural athlete.
Starting off the list of new players is 6-foot guard Dallas Moore. Moore is finishing his senior year at Boca Ciega High School in Gulfport, Fla., and is scoring at will against opponents. Moore dropped 42 points in a win over Lakewood High School, Feb. 7. He is averaging 26 points per game, 4.8 assists and 2.5 steals per game this season.
"He [Moore] used to be known as just a scorer, but now he's doing both," said UNF men's basketball head coach Matthew Driscoll. "He can put the ball on the floor now and move it, and he's got some great range."
Driscoll said that they had been recruiting Moore hard since his junior year.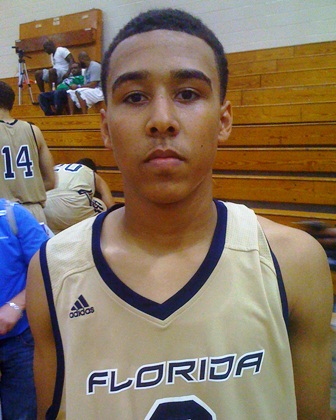 Arriving at UNF with Moore is another point-guard, 6-foot-2 Sean Brennan. Brennan plays for Roswell High School in Roswell, Ga., and is currently averaging 21 points and five assists per game. He was named the 5-AAAAAA  player of the year in his region. Brennan led Roswell to the No. 2 seed in his school's regional tournament, which is a three day event taking place Feb. 13-16.
"He was one of the most underrated guys, unlike Moore," Driscoll said. "We loved the kid since his junior year. We just so happened to see him over the summer and we were like, 'Man this kid is good.'"
Driscoll said that Brennan has a toughness to him that comes from his time playing in New Jersey, before moving to Georgia.
Brennan said his time in New Jersey, although short, helped his game.
"The game's more up-tempo up North, it has always been faster," Brennan said.
Brennan made one trip to UNF and decided to commit on the spot.
"I felt like I had a good relationship with all the coaches," Brennan said. "I talked to coach Bruce Evans a lot. Then, when he left I stayed in contact with all of the other coaches and knew I wanted to come."
Brennan said he has no problem with going from being the premier player of his high school team to starting at the bottom again.
"Moving from New Jersey, I had to start from the bottom and make a name for myself," Brennan said. "I'm used to it. Moving from city to city and from different AAU teams."
The player with the least amount of experience, but the biggest upside potential, is Romelo Banks from Celebration High School in Kissimmee, Fla. The 6-foot-11, 225-pound Banks has only been playing basketball for three years, but with a big frame and a 7-foot-4 wingspan, Banks has a lot to offer UNF, who is usually outsized by opponents.
"He's [Banks] a great athlete. He's very anxious to get into the gym," Driscoll said. "He's not a stiff at all, and he doesn't get down on himself at all."
Banks went up against highly recruited center Schuyler Rimmer during a game against Boone High School, Jan. 29. This was a big game for Banks because unlike Rimmer, Banks hadn't seen too much recruiting attention. Rimmer was already committed to playing ball at Stanford University after he graduates. But despite the hype, Banks was able to hold Rimmer in check and led his school to a 61-54 upset.
Banks is athletic and a natural. The one problem Driscoll pointed out is that he still needs to learn how to play the game. On two visits to see Banks play, Driscoll said Banks was in foul trouble already in the first half.
"He's either been undisciplined and trying to get blocks on every shot or he's playing against a 6-foot-3 kid," Driscoll said.
With a new big man, and guards that can score, Driscoll is looking to change UNF's play style to what he was familiar with when he coached at Baylor University. Expect to see a lot of two-point guard rotations next year, which will allow the team to have two ball handlers and scorers on the court.
The three recruits may be joined by two other scholarship athletes, along with Aaron Bodager, who is returning to the team as a redshirt freshman after tearing his ACL in September.
Next year's players will be predominantly young, with Charles McRoy and Travis Wallace as the only returning upperclassmen.