Budget discussed in forum, passed in senate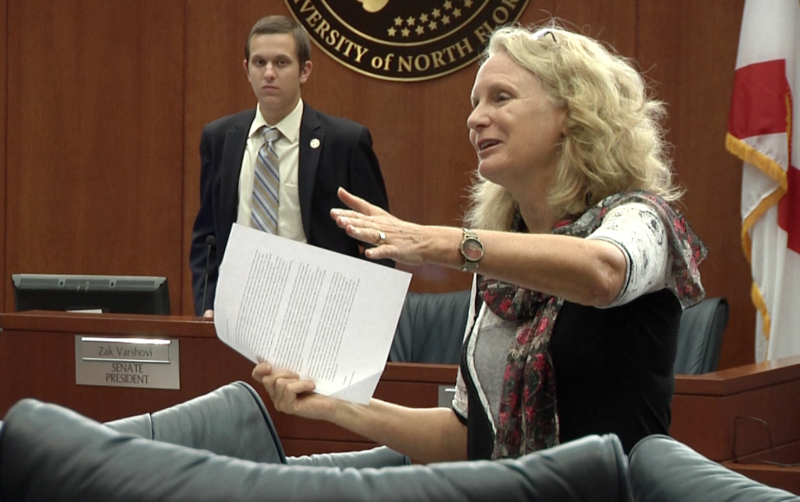 Student Government held a public forum in the Senate Chambers Feb. 8 to discuss the proposition of a new budget and possible cuts to on-campus organizations for 2013-14.
Billy Namen, Student Body Treasurer, said the majority of on-campus facilities and organizations will lose funding this year.
"The reason for less funding is because of less credit hour revenue, due to lower student enrollment," Namen said. "When less students come here, there are less credit hours, so there's less money."
Namen declined being recorded during the interview for unmentioned reasons.
Chris Brady, University Chair of the Budget Committee, said Student Government made budget cuts where they saw fit.
"We have a zero-based budget, so we don't take money around and move it. However, there is no guarantee that [an organization] will get the same amount of funding each year," said Brady.
One of those organizations will be the Child Development Resource Center, a resource center on campus where students and non-students can enroll their child into an educational environment meant to prepare them for preschool at a lower price. They provide a Voluntary Pre-K education program and a homework assistance program as well.
They were also the only organization that came to the forum to protest their budget cuts.
Pamela Bell, Director of the Child Development Resource Center, presented to the Student Government on behalf of the DCDR. Bell said their budget will be cut down to $19,000, 48 percent lower than the $37,000 they received last year.
Student Government funds only contribute to 10 percent of the DCDR budget, but Bell said those cuts will still cause them to raise their rates.
"The going rate for students is $130, where the public rate is $170," Bell said. "We're below the average on our rates, but we will have to raise them. If students can no longer get the student rate, it can result in UNF students dropping out of school."
On Feb. 11, the senate made no changes to the DCDR budget, but senator Brady proposed an amendment allowing the Student Wellness Center the authority to distribute funds in order to compensate for the 25 cent wage increase. The amendment passed with 38 approvals and one disapproval.
No other changes were made and the budget was approved unanimously with 39 approvals.
Email Erica Santillo at [email protected]