After losing 77-68 to the Dolphins Jan. 18, UNF (10-16, 5-8 A-Sun) will be looking to exact revenge on JU (10-14, 7-6 A-Sun) at Veterans Memorial Arena, Jacksonville, Fla.
The UNF and JU rivalry, aka the River City Rumble, has provided enough drama to liken itself to any other college basketball rivalry across the country. After a disappointing performance, during their last meeting, UNF has a chance to make a statement in the rematch Feb. 15.
In their first meeting, JU snagged eight more rebounds than UNF, and put back 16 second-chance points compared to UNF's four.
Forward Travis Wallace knows UNF has to step up in the paint and the boards.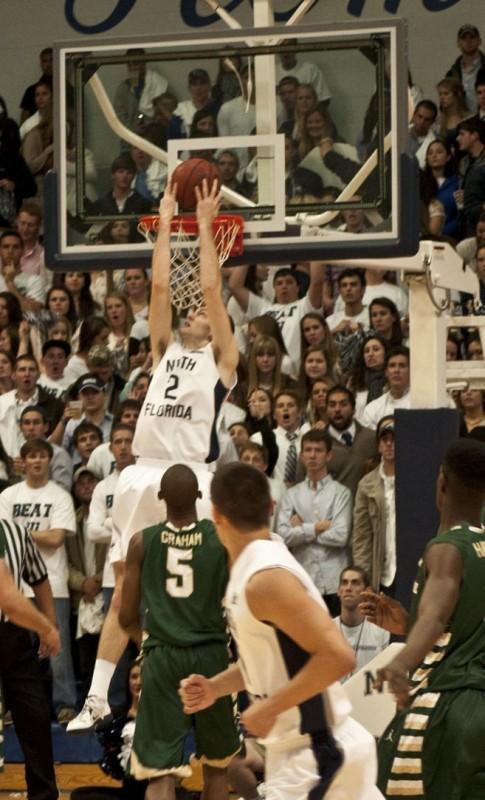 "We need to understand that you have to want the ball more than the other team," Wallace said. "We came up short the last game so we're going to make sure that won't happen again."
Wallace will be a pivotal factor in the upcoming JU game. He's been on a hot streak, with five straight games in double digits. He's also leading the team in rebounds this season, and as long as he  finishes strong, it will be his second consecutive year atop the glass cleaning statistic.
Fortunately for UNF, JU is currently on a cold streak, losing four of their last five games, including an overtime loss at Mercer, Feb. 11.
In UNF's last three games, there has been a strong showing on the defensive end, but they have struggled to get buckets. UNF averaged 56 points per game in its past five games, compared to its 65 points per game season average.
Something to take note of during the upcoming match is how UNF freshman Beau Beech plays. He has been in a slump the past few games and is in jeopardy of being moved to the bench. But, there's no better way for him to break his cold streak than to do it against JU.
Beech has been held scoreless in the last two games and only scored two points last matchup against JU, shooting 25 percent from the field.
UNF's head coach Matthew Driscoll said UNF is going to have to start putting the ball in the net if they want this win.
Another problem during the first game was JU's superfluous amount of free throws. The Dolphins attempted 27 free throws and connected on 22.
UNF will also need to clog up passing lanes and stop offensive penetration if they want to keep the Dolphins off the scoreboard. Most importantly, UNF will have to stop the Dolphins from scoring late in the game.
UNF guard Parker Smith scored a game high of 19 points in the last matchup, but was just one of two UNF players to score in the double figures.
Smith said, "One of the things that hurts is when you allow dribble drives into the paint because everybody converges and has to help," Smith said. "So if we can shrink the floor, play really good help-defense and keep people from getting in the paint, that would create plays on the outside, rather than being able to converge and drop it down themselves."
If JU forward Glenn Powell dominates UNF on the boards, like he did the first game, JU might be able to pull off a season River City Rumble sweep. In his three games against UNF, Powell has averaged 7.7 rebounds.
With just five games left in the season, UNF needs to gain momentum as they begin to approach the A-Sun Tournament, March. 6.
As the great Michael Buffer would say, "Let's get ready to rumble."