Football ain't free
Campus enthusiasm for football at UNF by 2017 could falter when students discover athletic fees would most likely have to double to make it happen.
In an email to students and faculty, UNF President John Delaney cited 25,000 as the magic number of students needed to justify a football program.
Delaney and UNF Athletic Director Lee Moon have referenced schools such as Georgia State, Virginia Commonwealth University, University of Texas San Antonio and the University of North Carolina Charlotte, as examples similar to UNF, but those universities all have over 28,000 students.
Currently, Delaney has no plans for increasing enrollment.
Ruling out an improbable amount of donor contributions only leaves one option.
Delaney and Student Body President Carlo Fassi would have to choose to champion a monumental hike in student athletic fees to compensate for the lack of student enrollment if they want to bring football to UNF.
Where would the money come from?
There are two main monetary sources when a school starts a football team — donors and student fees.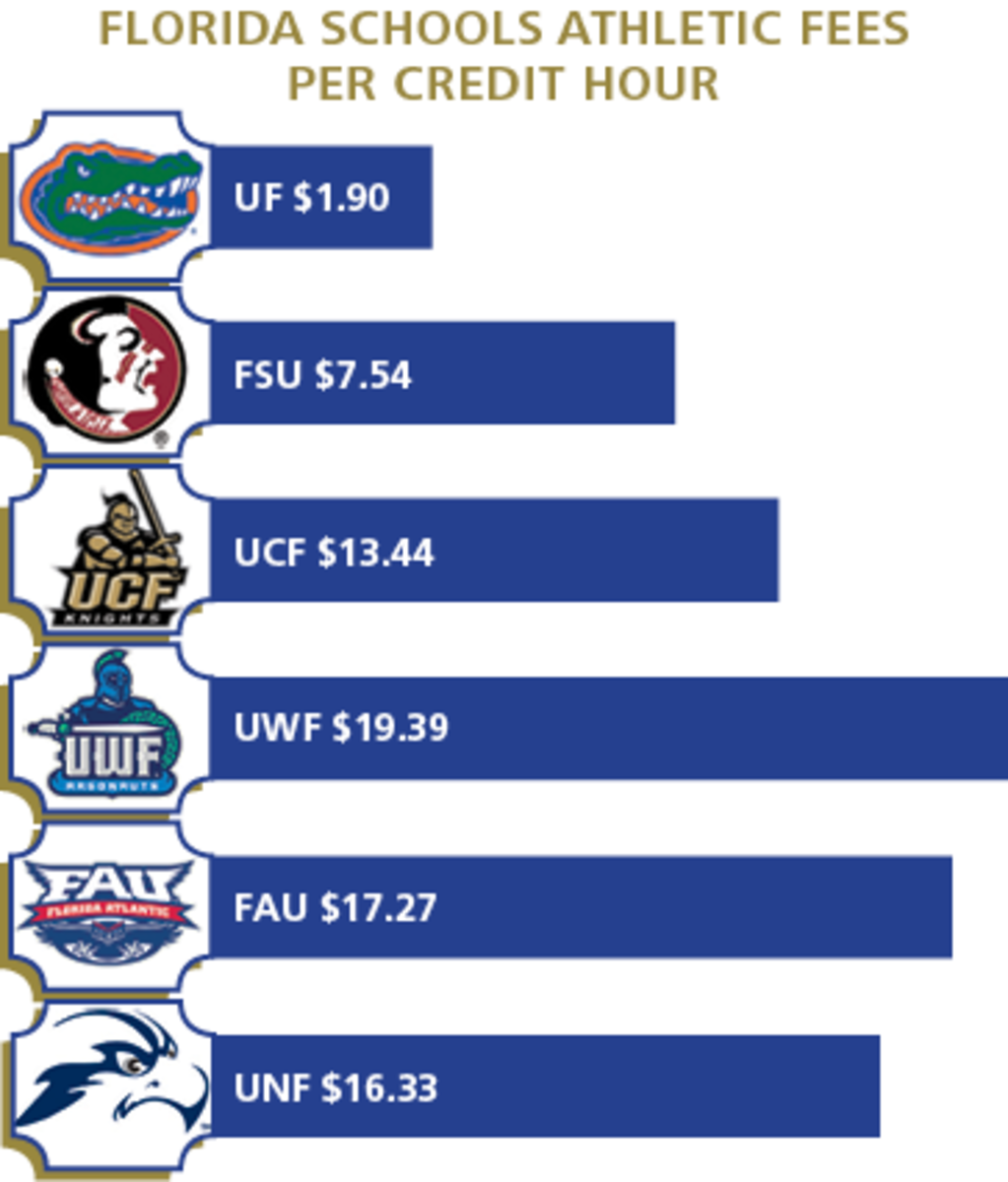 While donations are always a part of the plan, UNF is only 44 years old, and wealthy donors are sparse.
"Donations aren't a consistent form of revenue and I don't think any department should bank on donations as being what drives any sort of athletic program until you do make it to the Florida state level," Fassi said
Fellow Atlantic-Sun school ETSU is on a similar path toward football, but with a few key differences.
Similarly to UNF, ETSU has a small student population of 15,000, but its pool of graduates and donors goes back 102 years. ETSU also has the infrastructure needed to carry football. The university, which carried a football program since 1920, discontinued its program in 2003, but facilities such as an 8,500 seat arena and offices remain.
The ETSU Student Government voted to start a new football program Jan. 30, with approval coming by a 22-5 margin. This proposal included a $125 increase per student, per semester in athletic fees.
ETSU had $18 million in donations between 2010 and 2011, UNF donors contributed $8 million.
UNF's Director of Alumni Services said most UNF graduates are also too young to be donors.
"They're still in the wealth accumulation stages of their lives," Hall said.
While there is no official information about whether alumni are interested in donating, Hall noted that many alumni have unofficially expressed enthusiasm about bringing football to UNF.
"They [the athletic department] would need a significant amount of revenue [to start football team] and most of that burden would end up potentially being on the students," Fassi said.
How much could UNF students pay?
UNF students currently pay $16.33 in athletic fees per credit hour — $195.96 for 12 credit hours.
According to a Florida statute, the sum of the activity, service, health and athletic fees cannot exceed 40 percent of tuition. The other fees aside, if UNF were to raise the athletic fee to the maximum amount under this statute, it would total $26.31 per credit hour.
In his September '12 interview with the Spinnaker, Moon said that if a new athletic fee was introduced, it would be a flat fee, not based on amount of credit hours. But, hypothetically, if UNF were to keep the fee based on credit hours, raising the athletic fee to the maximum amount would total $315 for a student taking 12 credit hours.
But like UNCC and Kennesaw State have avoided laws similar to Florida's by implementing a separate fee exclusively for football. A separate fee would have to be approved by the state legislature after being approved by the university and students.
Fassi said he would not want to increase the athletic fee to its maximum amount and would only support an additional fee if a large majority of students were in favor of it.
"The question is how much of the fee to commit to football," Delaney said. He also said that they may get outside money from boosters and alumni, but students would have to pay a large portion. "There has to be new revenue on top of that for football."
"We don't know what we're thinking yet — we need to look at everything," Delaney said.
Will student enrollment go up?
The fewer students UNF has, the higher the student fee will have to be in order to compensate.
UNF's expansion from the current 16,000 students to 25,000 looks even less likely in light of recent budget cuts, both on the national and statewide levels. Last year, Florida Governor Rick Scott cut $300 million in the higher education budget.
Enrollment has been frozen since 2008 and is not projected to increase in the near future, but if it does increase, Delaney said it won't be for football.
Kennesaw State is a relatively young university with student enrollment at 24,000, and a previously built stadium — which is the largest cost when starting a football program. Its board of trustees is currently voting on a $100 increase to student athletic fees — which would bring their athletic fee to a total of $252 per year.
UNF would have to compensate for the difference of 8,000 student with an even higher increase in fees.
"We will not increase enrollment unless we can preserve standards and we really can't do it until we have more money from the legislature," Delaney said.
The question is whether the student body and our administration are willing to back a substantial increase in fees.
"We do not know about the revenue and if it's even possible. We obviously don't want to put that on the backs of students," Delaney said.
"Tuition, fees — everything that students are committed to paying — is already enough," Fassi said.
Do Fassi and Delaney care about student opinion?
"Clearly the students have to be interested in bringing in football," Delaney said.
Fassi said, "I refuse to vote at a board of trustees level on a new fee without getting significant student feedback on it first and foremost"
ETSU's student government polled 438 of their 24,000 students and found that 87 percent voted for bringing football back, with 13 percent against. The students were not told about the $125 student athletic fee increase per semester that would be necessary to fund the program.
Kennesaw State held a university-wide student poll and 33 percent of students cast votes. The result was 55 percent voting to approve a $100 student fee increase and 45 percent voting against the increase.
"There has got to be a student consensus; there has got to be a faculty consensus; the board has to approve it; it has to make economic sense and it can't be able to impact academics," Delaney said.
Fassi said the only way he could see student government supporting a football fee is if they put it on the ballot as an election initiative.
Fassi said he would request 20 percent of the student body to show up on election day, which is about 3,000 students.
He established a Facebook group, called UNF NCAA Football Exploratory Forum, to get feedback from students. The group has over 700 members as of Feb. 13.
Student government is working closely with Moon, Delaney and Vice President of Administration and Finance Shari Shuman, to make sure that whatever is proposed is as transparent as possible.
"Once the president receives an actual report [on the cost of football] from the athletic director, it will be made available to everybody," Fassi said.
What if it's not feasible?
Delaney said football at UNF would have to be like its own company with separate income, revenue and costs, and that they would not subsidize that from anywhere else.
"The budget may make the decision for us," Delaney said.
Not all universities are as focused on fiscal responsibility and transparency.
ETSU's first football program was shut down in 2003 due to its consecutive financial loses. According to the East Tennessean, ETSU's football program lost nearly $1 million every year between 1999 and 2003.
In his September '12 interview, Moon said that ETSU's Athletic Director Dave Mullins was to be fired because University President Brian Noland wanted to bring in an athletic director who was supportive of football.
Mullins stepped down from his position Jan. 16 and was replaced by interim Athletic Director Richard Sander.
Sander was the athletic director at Virginia Commonwealth University until 2006 when he became the university's director of intercollegiate athletics. VCU established a club football team in 2011 and is exploring the possibility of joining the FCS ranks.
VCU, which was established in 1838, is a public university with over 31,000 students, and it had $88 million dollars in total donations between 2010 and 2011. VCU's student athletic fee was $610 in 2011-12.
For most universities, part of finding out where the money will come from is commissioning a feasibility report, usually from an outside source, but Delaney wants to keep the work inhouse.
"Lee [Moon] knows the numbers and our finance people can check them," Delaney said.
He said UNF did not need to hire a consultant because other universities have their studies available on public record.
"We are running the numbers and will probably be completed with that in a few months. If the pro formas are not feasible, we will stop the process. If they are promising, then we will engage the university community," Shuman said.
As of now, it seems that Delaney's original estimation, of UNF football being ten to fifteen years away, is more likely than a kick-off in 2017.
"You don't leave as a legacy something that can't financially carry itself — that's a bad legacy," Delaney said.
"I think it's more likely that we won't have football than we will."
In Conclusion
At this point it doesn't look like football at UNF will take shape any time soon, unless students are willing to reach deep into their pockets.
If the voices shouting for UNF football become too loud for Fassi and Delaney to ignore, their responses will likely be simple — put your money where your mouth is.