Students motivate each other to train for the annual Gate River Run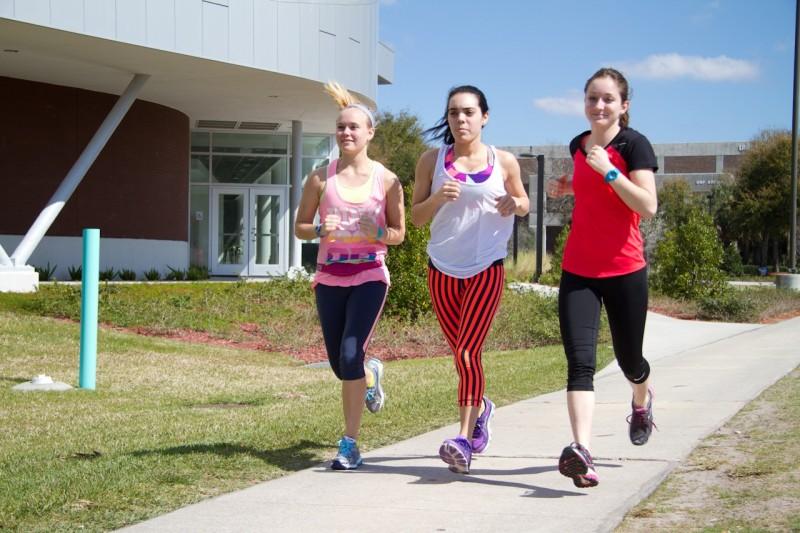 In 1997, the Dottie Dorion Fitness Center gathered a group of UNF students together and turned them into a collection of well-groomed runners known as the "Cardio Birds." And the tradition continues.
The Cardio Birds' goal is to train for eight weeks and get into shape for the annual Gate River Run, formerly known as the Jacksonville River Run.
This year is no different. Members of the Cardio Birds, led by Kacie McFate, fitness coordinator at the new Wellness Center and a recent UNF graduate, are currently in week five of their training. With just three weeks to go, the group is finally nearing its highly anticipated run.
McFate first participated in the run two years ago after making it her New Year's resolution. When she first began, McFate said she could barely run a half-mile but quickly got in shape after participating in the eight-week training program.
She has plans to run again this year, making this her third consecutive Gate River Run.
McFate's sister, Lyndi McFate, an elementary education junior at UNF, is participating in the run for the first time this year after her sister convinced her to join the Cardio Birds.
"Kacie actually got me involved in running and kind of surprised me one day last semester and told me that she was going to run [in the Gate River Run] and wanted me to run with her," Lyndi said. "I asked her how many miles we were going to be running and she wouldn't tell me. She just told me I had to keep running."
And ever since the old Dottie Dorion Fitness Center days, groups from UNF have been training for the Gate River Run, McFate said.
"One of the fitness center's interns at that time was a huge runner and began the Cardio Birds as a project," Kacie Mcfate said. "Then it just kind of stuck every year, and more people became interested [in participating]."
This is the Cardio Birds' sixteenth consecutive year of running.
McFate and company lead organized training runs several times a week with different fitness instructors and set times to prepare students for the race.
"We start the mileage off really light, starting with 2 miles," McFate said, "and then each week one of the runs is moved up to the next level. This way it gives people the opportunity to progress."
The training is so extensive because the Gate River Run is a 15 kilometer road race, which is roughly 9.3 miles. This famous 15K has also been the U.S. National Championship 15K since 1994, and is open to both competitive and recreational runners.
In 2007, the Gate River Run became the largest 15K run in the entire U.S. It has consistently been voted one of the top U.S. Road Races. There were about 23,000 participants at last year's race, and the winner won $85,000 in prize money.
The Cardio Birds now have 63 students who have committed to training for and participating in the Gate River Run.
Francesca Verdiales, a health administration senior, and Tara Suter, an exercise science freshman, are two of the 63 runners in the Cardio Birds.
Both are participating in both the Cardio Birds and the Gate River Run for the first time this year. Giving credit to McFate for getting them involved, they are eager to run in the race.
"Until this year, I really wasn't able to run more than a mile without stopping," Suter said. "It's really motivating to have a group and it keeps you accountable because people are counting on you."
Verdiales said she was a sprinter in high school, never running more than 200 meters, but is eager to test her mettle in the run.
Email Zach Sweat at [email protected]
The Gate River Run is open to the dedicated professional or simply the veteran jogger.  Everyone who finishes the 15K wins a medal. In addition, the race features live bands every mile.
For more information, check out the official Gate River Run website at http://www.gate-riverrun.com/.
To find out more about the Cardio Birds, and how to train with your fellow UNF Ospreys, visit the Student Wellness Center and ask a fitness instructor about joining. The training schedule for the Cardio Birds can also be found on the second floor of the fitness center or at
http://www.unf.edu/recreation/swc/Group_Fitness.aspx