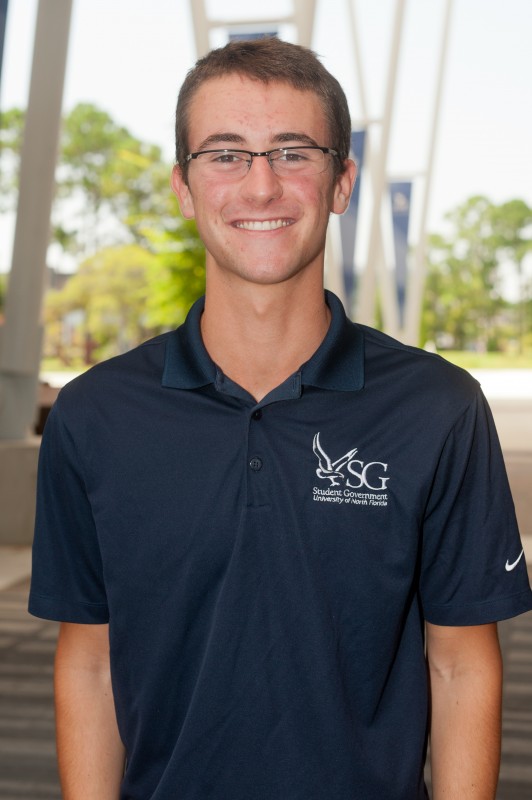 As of now, Fassi is running unopposed in the Spring election. Fassi said he hasn't given much thought to his supposed victory. He is focused on his current presidency.
"Honestly, I'm not really focused on the election. I'm focused on Aim Higher."
After serving a second term as president, Fassi would be eligible to run for the student body president spot on the Florida Board of Governors (BOG). A position like that would mean a lot of time and responsibility.
"I haven't given it [BOG position] a lot of thought. I still have to focus on my re-election and ending my term strong," Fassi said.
Fassi originally had two opponents in the presidential race — Chris Hughes and Eric Armetta.
Elections chairman, Corey Amira, explained the reasons behind the disqualification.
Hughes, the pantry coordinator for the volunteer center, turned in a declaration of intent but failed to complete the candidate application or attend mandatory senate and committee meetings. His vice president, Ellie Hinck, also failed to meet the requirements. Both were disqualified.
Armetta and his vice president Jeffrey Young failed to attend the required senate and committee meetings. The two were disqualified, but were given a chance to appeal because they submitted a declaration of intent and candidate application.
Armetta appealed to Amira earlier in the week, but the appeal was denied. Only Armetta had a reason for missing meetings. The pair has until 9am Friday to appeal. As of yet, an appeal has not been filed.
Update Feb. 22
Armetta and Young filed an appeal and the elections primary court will meet next Wednesday to hear the appeal. Updates to follow.
Email Sarah Ricevuto at [email protected]