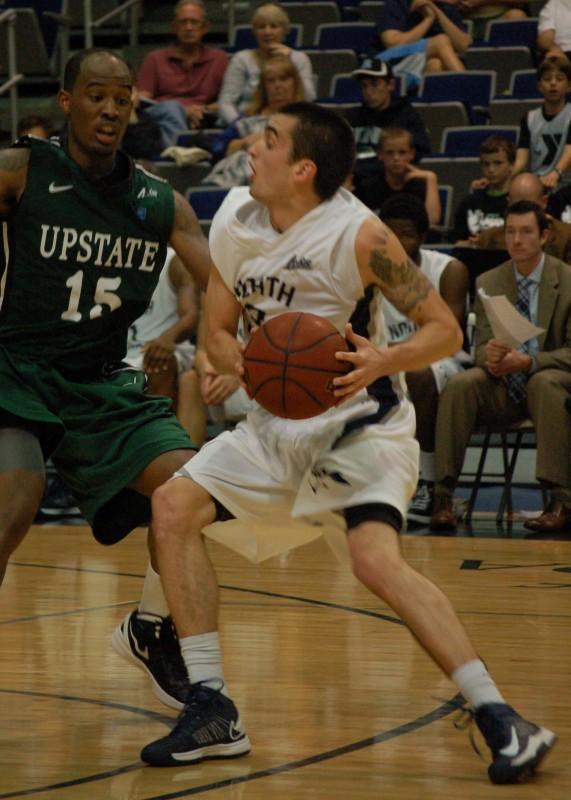 "That's definitely the storybook way that you want to end your senior night," said senior point guard Will Wilson.
UNF was able to win big in their final home game of the season.
UNF (12-17, 7-9 A-Sun) dominated USC Upstate and cruised to a 77-53 win.
Andy Diaz, Parker Smith and David Jeune round out the group of seniors who will leave as the most successful group of seniors in UNF history.
On a day honoring seniors, it was a freshman who stole the show.
After a three game slump, freshman Beau Beech regained the form seen earlier this season Thursday night against ETSU, and put up another strong performance tonight.
Beech finished with a game high 17 points, shooting 5-7 from three-point range. After each three splashed through the net, Beech held up three fingers as he ran down the court and embraced the cheers from the crowd.
"I've been working with coach all week," Beech said. "David Jeune got me open, Will Wilson, Andy Diaz all the seniors they were looking for me. I got open shots and I hit them. It was fun."
"It was just a matter of finding confidence in myself, and I finally did," Beech said.
UNF ended the first half on a 15-4 run and started the second half on a 12-5 run.
Smith said the team's offense was flowing well due to defensive stops, giving the team the ability to transition smoothly into their offense.
UNF forced 21 USCU turnovers and converted them into 24 points on the offensive end.
UNF was out rebounded 20-10 in the first half but were able to take control of the boards in the second half, and finished even with USCU with 34 rebounds, some of which contributed to UNF's 18 second chance points.
Smith finished with 15 points and three assists, shooting 6-10 from the field. Smith tied the single season A-Sun record for three's made (107) after draining three more from behind the arc tonight.
"I wanted to win just to build momentum going into the tournament, but I also wanted to win because it was the last night we would play here," Smith said.
"There is never anyone ever that has made more shots in our gym that didn't count in the game than Parker Smith," Driscoll said. "He has worked his tail off."
Before the game the four seniors, who stood with family members, were honored at mid court and presented with framed game jerseys.
"It was definitely an emotional time," Wilson said, who wasn't able to play  in his high school's senior night due to an injury. "But, it was a conference game so you can't really think about just yourself and your emotions."
UNF shot 49 percent from the field and 52 percent from three point range.
Driscoll's late season intensity was on full display tonight, when he almost received a technical after a controversial call.
Beech was called for grabbing the jersey of a USCU player when both were jumping for a rebound, a rarity in the college game.
"My high school basketball coach was here tonight," Driscoll said jokingly. "The last thing I wanted to do was get a technical when he was at the game."
Driscoll, who has never received a technical during his time at UNF, avoided a technical and a mandatory one-game suspension, when the referee realized Driscoll doesn't use curse words.
"I don't cuss but what I do is use words that are synonyms," Driscoll said.
The Osprey's will take their two game winning streak on the road and play the final two games of the season against Northern Kentucky and Lipscomb. UNF will play NKU Feb. 28 7:30.