Performer Jasmine Guy speaks at annual MLK Scholarship Luncheon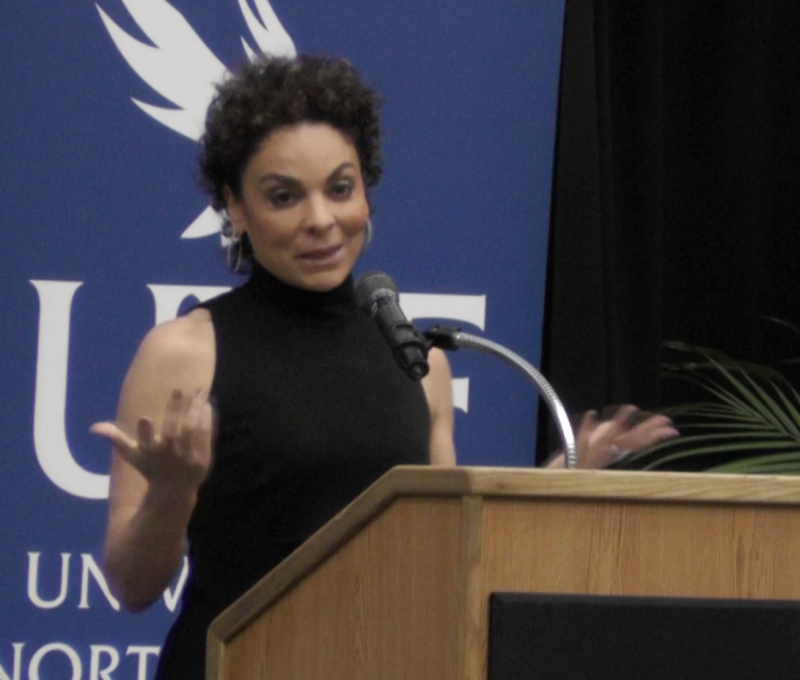 UNF's Intercultural Center for Peace held its annual Martin Luther King, Jr. Scholarship Luncheon Feb. 26 in the University Center with performer Jasmine Guy as the keynote speaker.
Images of King were projected on a screen overhead as the luncheon started with opening comments from Student Body President Carlo Fassi and a song sung by Emorja Roberson, a senior music performance major.
After lunch, Fassi and Oupa Seane, director of the Intercultural Center for PEACE, presented the four scholarship winners before introducing Guy.
Guy spoke of several of her experiences, drawing laughs from the audience as she talked about growing up in Atlanta and her work in movies and television shows such as the sitcom A Different World.
She then spoke about the importance of seeing the vulnerabilities of great leaders such as King, saying King didn't originally aspire to lead a mass movement, but simply looked ahead and rose to the occasion.
Guy challenged the audience to start trying to create change in their own worlds.
"The movement is in your home," she said.
In an pre-speech press interview, Guy said she hoped to inspire people through speaking of her experiences. She said she her advice for young people is to live in the moment.
"Enjoy your experiences," she said. "School is going to be over soon and nobody is going to really care about what you're doing, no one is going to give you constructive criticism or watch you grow because you're already supposed to be there."
Guy also said young people should focus on one thing at a time and see their passions through.
"Even if you don't achieve, you want to leave something knowing you gave it your all, and then you can breathe and not have regrets," she said.
Jasmyne Haywood, a UNF pre-law student who attended the event, said Guy's speech made her think more about the vulnerabilities of Martin Luther King.
"Everything she said was inspiring," Haywood said.
Chris Bender, the program assistant at the Intercultural Center for PEACE, said she grew up watching A Different World. She said the staff at the Intercultural Center had originally thought of playing a clip from the show before Guy got up to speak.
"We went through a lot of her Youtube videos and just remembered how fun that show was and laughed and enjoyed it," she said.
Bender said she thought Guy brought everything together full circle through talking about working on A Different World and then bringing it around to Martin Luther King and what people still need to do today.
Email Dargan Thompson at [email protected]