Pain is temporary, ink is permanent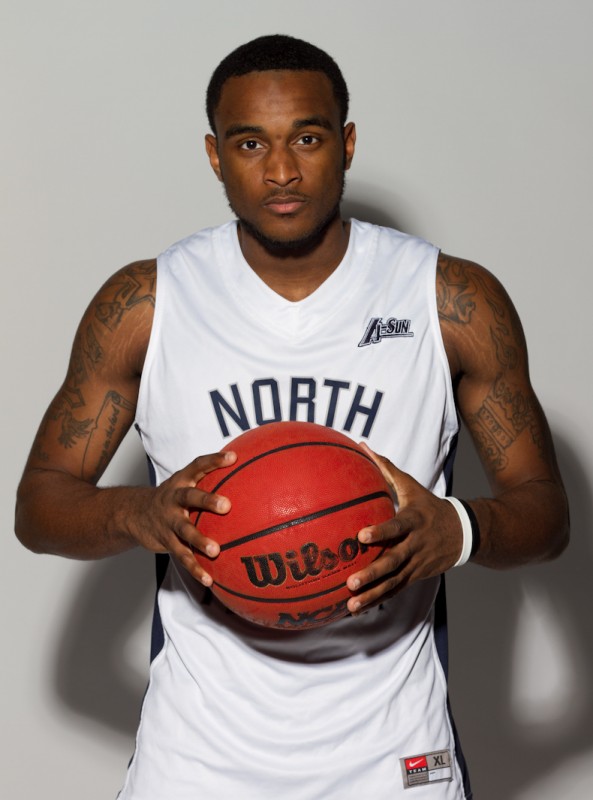 Sixteen tattoos cover junior Travis Wallace's body. One is his mother's name; one reminds him of his little brother. But one stands out above the rest.
On Wallace's back, the phrase, "pain is temporary," is written in black ink.
When Wallace was growing up, he was without a father. Instead of letting pain hold him down and keep him from his goals, he learned how to cope by relying on those around him.
Wallace was born in Boston, Mass., and raised there by his mother, Sanasa Wallace-McClarty. Wallace's biological father, Frederick Sexton, left before he was born, leaving Sanasa to raise him with the support of her family.
Sexton was later charged with first-degree murder, April 1998, when Wallace was six years old. According to an article in the Boston Globe, Sexton had a checkered history of physical abuse involving his girlfriends.
Wallace, who is majoring in criminal justice, said that Sexton was in jail for roughly 11 years and Wallace hasn't seen him since Sexton's release.
"We talk every now and again," Wallace said, "I have respect for him because he is my dad, but I have a stepdad [Zito McClarty] and I like to stay within my immediate family."
"It was difficult, every little boy should have a father figure growing up," Sanasa said. "My mother and sister helped me raise him. We have a very caring and loving family. He is who he is today because of the family members around him."
Despite having help from Wallace's grandmother and sister, Sanasa felt Wallace still needed a father figure. That's when Sanasa decided to sign Wallace up for the Big Brother Big Sister program. Wallace's Big Brother was Rick Bernard.
"He pretty much expressed to me how a sport could define somebody," Wallace said. "He said if you work hard at something, anything is pretty much possible. We played basketball almost everyday. He was maybe 32 at the time and I was like 10-years old, so I was playing against these older guys."
"It was a tremendous help. It wasn't that he replaced [Wallace's] dad, he was just a role model," Sanasa said. "To this day he still calls and checks in on Travis. He called me about three weeks ago — he still thinks of him."
Bernard nourished Wallace's love for the game of basketball. On the days that they spent together, Bernard would take Wallace to Boston Celtic games or to the basketball courts to play basketball with Bernard's friends.
Bernard had two kids of his own and no obvious reason to enter the Big Brother Big Sister. One night he was sitting on his bed, watching TV and a commercial caught his eye.
"I was sitting there and saw the commercial and realized, 'you know what, I have to join this," Bernard said.
Bernard said he wasn't surprised to find out Wallace has emerged as one of the leaders on the UNF basketball team.
When UNF was in the midst of a four game losing streak, head coach Matthew Driscoll complemented Wallace for his vocal in-game leadership after a comeback victory against Stetson, Feb. 2.
"He was very teachable when he was younger," Bernard said. "Every time we played and I'd tell him to try doing something different, he would go and do it. When he was younger, I could see him growing into a leader."
Bernard said that Wallace was different from all the other kids he was a Big Brother for, and said the difference was a good support system at home.
Wallace used his experience with Bernard when he gained a younger brother of his own. Still living with Sanasa in Marietta, Ga., is Wallace's seven-year-old brother CJ.
CJ is Wallace's biggest fan — though Wallace said teammate Parker Smith is a close second.
Now that Wallace has become a role model, he tells CJ the same thing that Bernard said to him in Boston.
Anything is possible.
"He watches every game, and I just want him to know that the sky's the limit," Wallace said. "So if he sees me doing well in school it'll make him want to do it twice as hard. He's at that point where he wants to be just like me, but I want him to be better, five times better."
Wallace has no problem sharing his life story. But instead of telling it through words he tells it through body art. On his right bicep, he has a cross with his mother's name written on a ribbon going across it. On his left bicep, he has a Boston Red Sox "B" logo to represent his hometown.
On his right collarbone, Wallace has his mother's birth date and "Maker" below it to signify that she made him who he is. On his left collarbone, he has CJ's birth date and below it the word 'Keeper'.
Wallace said he got his "Pain is Temporary" tattoo to remind him that life is tough, but eventually you can overcome it.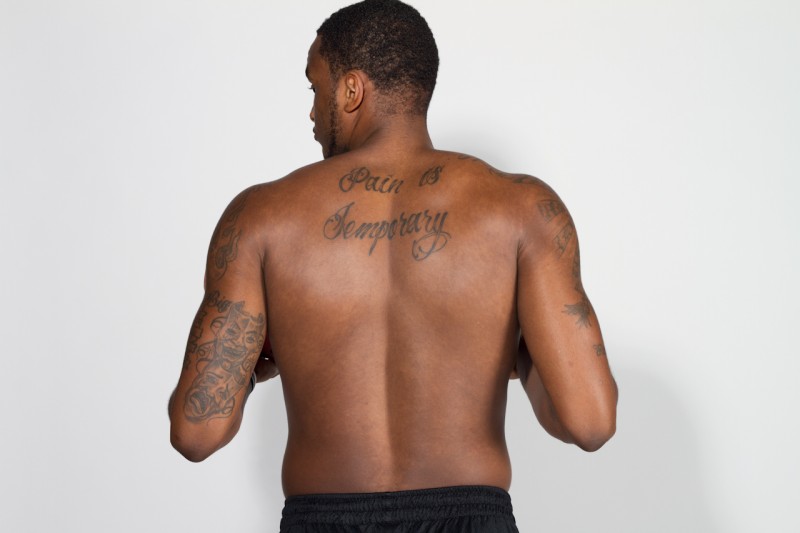 After three years of mentoring, Wallace's move to Georgia affected Bernard.
"Man, when he moved it was tough for me," Bernard said. "I loved that kid and I just missed him a lot. It got to a point where my wife looked at me and asked me if I would be this sad if one of my actual kids moved away."
For Bernard, his time with Wallace wasn't just for volunteer work, it turned into something more meaningful. Bernard said that his game, his passion, has always been basketball. The moments when just he and Wallace were on the court are what Bernard remembers most.
With the majority of his family in Georgia, Sanasa decided to sign Wallace up for basketball instead of the Big Brother Big Sister program when the family moved. Wallace eventually made it onto the AAU team and his future became brighter after his growth spurt.
During his eighth grade gym class, Wallace was attempting to dunk. He tried so many times that his legs began to get weaker and weaker with every jump. Eventually Wallace jumped one too many times and when he came down he felt something break.
At the hospital, he discovered he fractured his tibia and his knee. Despite the injury, Wallace hit a growth spurt and continued to hone his skills, and eventually started to get recruited.
After a brief stint at Florida A&M, Wallace transferred to UNF.
"When I committed [to FAMU] I wasn't really choosing what was the best for my future, but what was best for me then," Wallace said. "Being young and seeing all of those things when I visited got me. I realized after a year, though, that that's not where I wanted to be."
Wallace said that coming to UNF was the smartest choice he has made in his life.
Not only did Wallace get a chance to play for a Division I team and continue to work on his skills, but he was able to play with a group of guys who have become family.
"Man, these guys are my best friends," Wallace said. "We're all really close, it's gonna' be tough losing some of these guys after this season."
His teammates play Xbox tournaments, walk to class together and all hang out with each other.
"If there was one thing I learned at FAMU it was that I liked being away from home," he said. "When you go to school away from home it makes it so that home is a place to escape. If I went to somewhere like Mercer [in Ga.], I wouldn't have a place to escape to, like I do now."
Sanasa said, although it was tough, she understood and wanted Wallace to go to UNF.
His mother and the rest of his family usually make the trip to Macon, Ga. or Kennesaw, Ga., to see him play. After UNF clinched a spot in the A-Sun Conference playoffs, which are held in Macon, Ga., Sanasa said she took the days off from work so she could make sure she could see him play.
Over the years the 6-foot-6 forward has gotten over his father and flourished at UNF, becoming the second leading scorer on the team this season, after starting the season as a bench player.
Although the pain of not having a father has subsided, the impact it made on him has been lasting. Wallace has realized that every young boy needs a role model and has tried to impart onto CJ the simple words that have helped him in his life — pain is temporary.
Zach Morgan contributed to this article