Beech and McRoy spur recent wins for men's basketball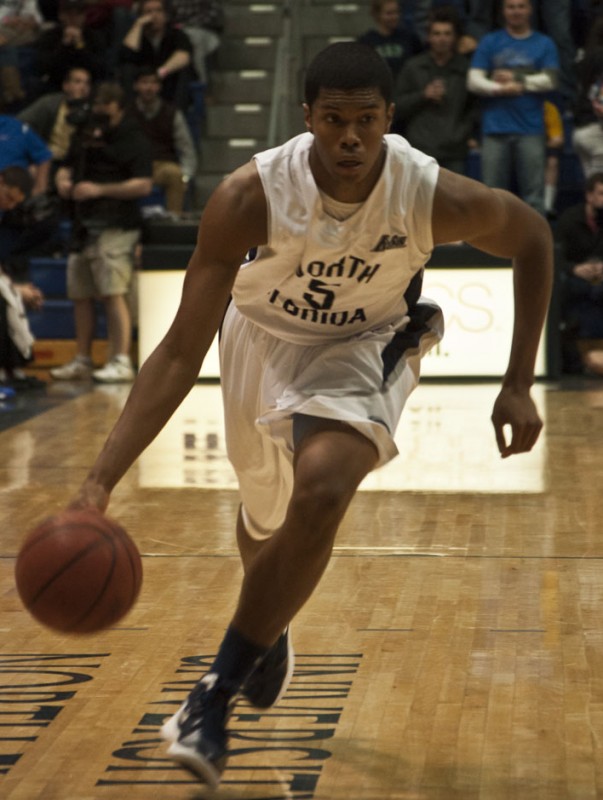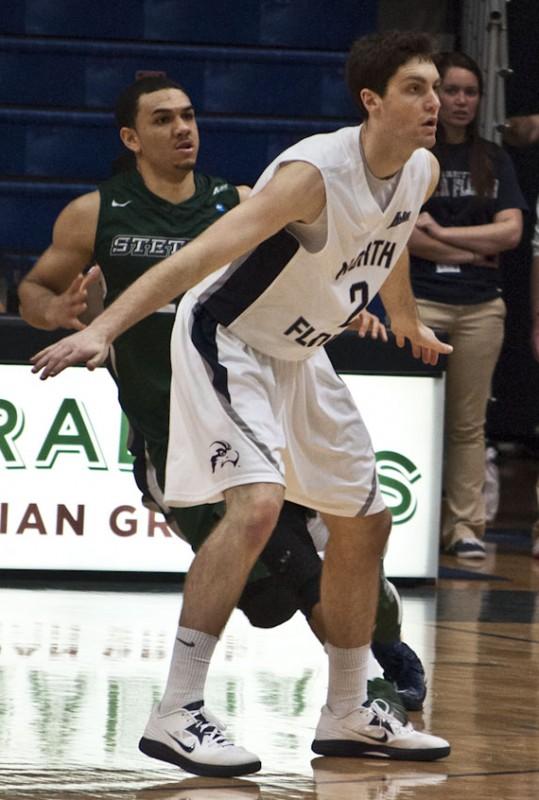 With about two minutes left, Beau Beech hit a three point shot to give UNF a 25 point lead against USC Upstate, Feb. 23.
As he sprinted down the court after the shot, he lifted both of his arms into the air and displayed three fingers on each hand. Beech carried the look of a man with complete confidence in his game, and especially his three point shot.
But two weeks ago, Beech was about as confident as Oscar Pistorius' defense attorney.
The 6-foot-9 freshman could be UNF's star of the future, but this season he was supposed to be a bench player, supplementing senior Jerron Granberry. When Granberry left the team after a game against FSU, Nov. 21, Beech was inserted into the starting line-up.
Initially Beech struggled in his starting role, but it looked like he found his stride toward the end of 2012 when he scored 17 points against Lipscomb, Dec. 31. In the following three games, Beech scored 17, 11 and 14 points, respectively.
During an 11 game stretch that began with Lipscomb, Beech averaged nearly 11 points per game.
Then Beech hit a wall.
During a three game span in early February, Beech was 0-11 from the floor.
Charles McRoy has also seen his ups and downs this season — with emphasis on the downs. When Beech became a starter, McRoy moved into Beech's role as a bench player and was expected to be a microwave player, who could help carry the offense when the starters needed a rest.
Head coach Matthew Driscoll was able to depend on solid defense from McRoy, but during a 14 game stretch, beginning Jan. 2, McRoy averaged just over three points per game.
During that stretch, McRoy was breaking Driscoll's cardinal rule — know who you are.
McRoy, who is better served as a slasher and mid-range jump shooter, was taking too many three point shots. In McRoy's defense, the shots were quality open looks, but anyone shooting 19 percent over 14 games should drive the ball instead of taking wide-open threes.
The game against ETSU Feb. 21, was when both Beech and McRoy broke out of their slumps.
McRoy had his best game as a college player, posting career highs in both points (16) and rebounds (10). Beech found his stroke and poured in 14 points with eight rebounds.
UNF beat ETSU and followed that up with another blowout win against USC Upstate, which was another good showing by Beech and McRoy. Beech led all scorers with 17 points, and McRoy scored nine.
Driscoll said the play of Beech and McRoy was the main reason UNF's offense has been clicking during the last two games.
McRoy's recent success can be traced to his improved shot selection. The 6-foot-5 junior has been passing up three's and using his athleticism to get to the rim, attempting just one three point shot in the last two games.
Beech's slump was more of a mystery. Driscoll said he couldn't understand why Beech wasn't hitting shots, because he sees Beech making shots and working hard in practice. Fatigue could have been a factor. The high school season is much shorter than the college season.
Beech said after the USCU game his confidence has returned.
McRoy and Beech are peaking at the right time with the A-Sun Conference tournament approaching, but we will see if the trend continues this week when UNF goes on the road for its final two games of the season.
Without continued production from its small forwards, UNF can expect another abrupt end to its season in March.