Art class uses campus as canvas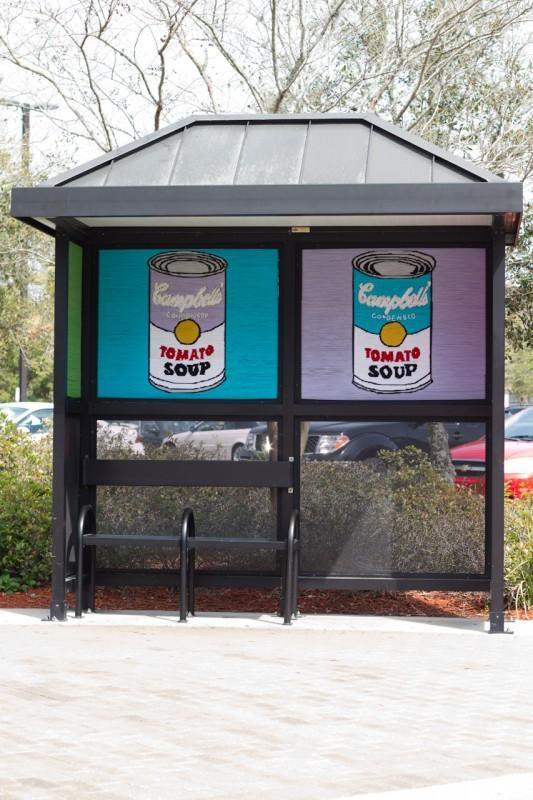 If you see a giant mural of a soup can image on the city bus stop in front of the library, don't be alarmed.
At the beginning of each semester, the students of Professor Jenny Hager's class Sculpture: Enlivened Spaces are told to walk around campus and pick places that inspire them.
The students pitch their ideas to the rest of class which then decides on the four or five best ideas. From that point on, the class becomes a team of artists working collaboratively to transform the spaces around them.
This semester, the bus stop and lake in front of the library inspired two very unique project ideas.
In the past, the class recreated Van Gogh's Starry Night painting on the bus stop outside of The Villages student housing, as well as painting a geometric design which reflects onto the sidewalk at one of the bus stops in lot 18.
This semester, the class recreated Andy Warhol's Campbell's Soup Can painting on the city bus stop in front of the library.
"The students like doing something that the general public will recognize," Hager said.
Hager said she lets various campus personnel know about all the class' upcoming projects so they can voice any questions or concerns.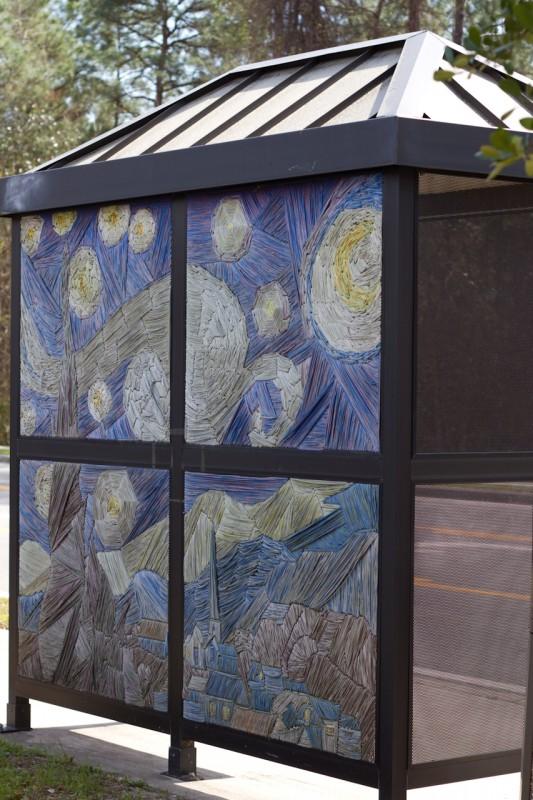 Maggie Bevis, a sculpture junior, said the Starry Night bus stop inspired her with the Campbell's Soup idea.
Bevis said the soup can is the first project she has been involved with for Enlivened Spaces. It was her original idea, resulting in her becoming the project lead. Originally, her idea was to do another Van Gogh painting, but the class decided as a whole that something new would be better.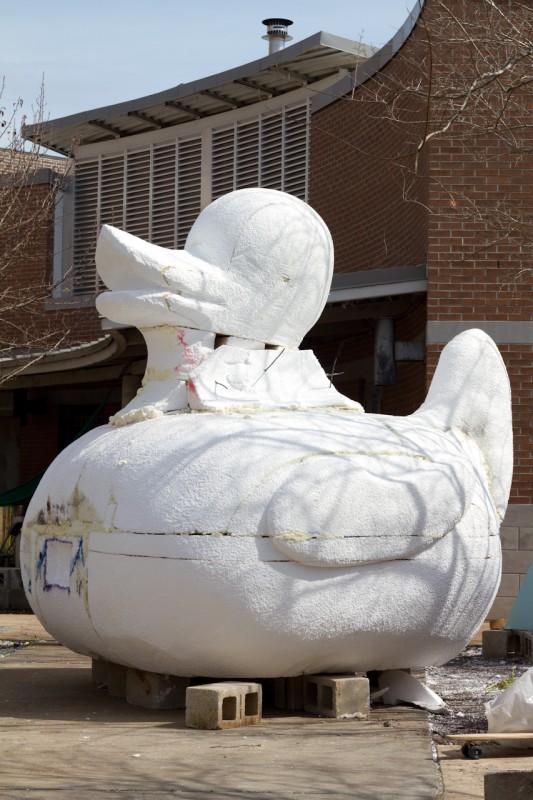 The students don't only decorate bus stops. They're currently in the process in carving a 10 ft. block of Styrofoam into a rubber ducky which you'll be able to find in the lake outside of the library.
Hager said the class decided to do the project because the students thought it would be great to see a giant rubber duckie in the pond by the library.
They built the duck using donated billets of styrofoam, which they laminated together and carved with saws. They then applied a fiberglass surface, sanded it and applied yellow paint.
Transforming a general public accessed place is inspiring on and off campus. Last semester, a 5,000-square-foot room at CoRK Arts District was transformed to resemble the interior of a brain.
Inspiration is what the students of Sculpture: Enlivened Spaces see when they look all around them.  From the bus stops to the lakes on campus, transforming the space around them is what the class is all about.
Email Dana Levy at [email protected]