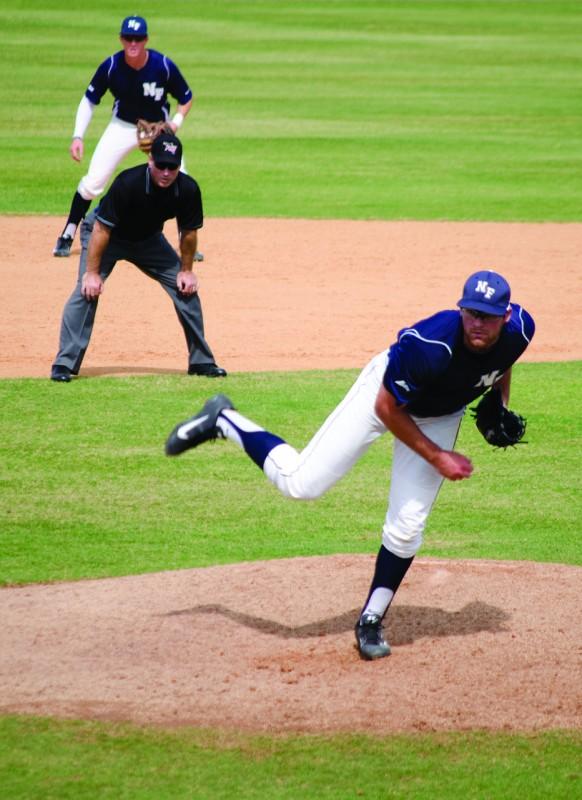 After starting the year winning every series it played, the UNF baseball team finally dropped a weekend series March 8-10.
The team traveled to South Alabama where it lost two of three games.
"Yeah you want to win every game, but the goal is to be in a postion where you can win the game and we were," head coach Smoke Laval said. "If we would've won the other two games the only thing that would've changed was the win and loss total not the way we played. Don't get it wrong we lost to a good ball club."
UNF consistently produced in the series, scoring over five runs in each game. But the teams pitching was inconsistent and the team was on the other end of a comeback game.
Although the team is 12-5 on the year and 6-3 in its last eight games, it's still searching for consistent outings due to injuries.
"The other guys can step in and do the job," Laval said. "When you're going without your number one starter, that's not a good thing."
In the first game March 8, UNF got a taste of its own medicine as South Alabama won on a walk-off hit.
The team had a three-run lead heading into the bottom of the fifth inning. South Alabama managed to score three runs and seize momentum.
The other two games of the series were blowouts. UNF dominated the second game on March 9. The team scored three runs in the third inning to take a 3-0 lead.
Continuing the trend of the season UNF scored 12 runs in the last three innings of the game to win 15-2.
In the final game of the series, March 10, South Alabama returned the offensive favor by taking a 3-0 lead in the second inning. UNF came back with a counter punch and put up five runs in the top of the third. Not be outdone at home South Alabama came right back and scored five runs in the bottom half of the inning.
UNF was able to make the game close, but wasn't able to tie the game and fell 9-8.
This was the first three-game series on the road this year for the Ospreys, the first three series' were at home. UNF hosts Louisiana-Lafayette in a three-game series March 15-17.
On Tues. UNF defeated Savannah State 18-4 in a game that included a school record 16 walks for the Ospreys.
The team has some time to get healthy before the conference season starts with a series against Lipsomb University March 22-23.
Even with a week and half to get healthy Laval said he doesn't believe pitcher Tyler Moore will be ready for the conference opener.