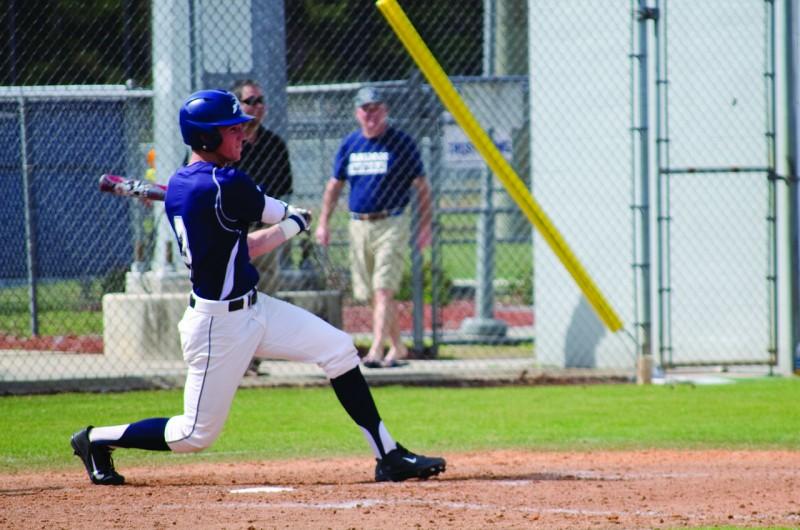 With two outs in the bottom of the eighth inning, Drew Weeks stepped to the plate with a chance to make history.
Weeks needed a double to complete the cycle — the holy grail of offensive baseball accomplishments.
The sophomore was able to turn on a pitch and pull the ball into the gap between the shortstop and third baseman. Both ETSU infielders dove in an attempt to snag the ball, but it slipped off the end of third baseman Alex Reynolds' glove and into left field.
Left fielder Daniel Tucker's throw to the plate ensured Weeks a stand-up double, giving him the first cycle in UNF baseball history.
Tucker's throw to  home plate was an attempt to throw out Donnie Dewees, who scored from second base for UNF's 11th run of the day.
Weeks never hit for the cycle in his baseball career before Saturday's game.
After the game, Weeks wasn't sure he had been awarded the double, or if it was scored as an error.
"Did they give it to me?," Weeks asked.
Once he was informed he was given a double he replied, "That's awesome. That's history."
Weeks, who attended Clay High School in Green Cove Springs, finished the game 4-for-5. He notched all four elements of the cycle by hitting a home run, a triple, a double and a single in the game. He also had two runs scored and a team-best five RBI.
"The cycle is so rare, I feel almost like its a no-hitter for pitching. It only happens very so often," said Weeks. "I was getting my best swings off on the ball. I was seeing everything perfect today."
UNF (20-10, 4-2 A-sun) defeated ETSU (14-10, 4-5 A-sun) by a score of 11-4.
The right-handed Weeks, who was batting in the seven slot, carried a .269 coming into Saturday's game.
"I have been hitting pretty poorly this year, but hopefully I can turn it around starting with this game," Weeks said.
Weeks' less than stellar batting average never concerned manager Smoke Laval.
"You don't look at the average, you look how you get there," Laval said. "[Weeks has] been running into some bad luck."
Laval said that Weeks and junior Tyler Marincov have hit the ball hard all season, but it hasn't reflected in their numbers.
The rest of the UNF bats were hot as well. The Ospreys combined for 22 hits, two of which sailed over the outfield fence of Dusty Rhodes Stadium. The 22 hits were part of a 53 hit three-game series against the Buccaneers.
Three of Weeks' four hits were sent to the opposite field, including his home-run in the second inning that sliced its way over the right-center field fence. Weeks and the rest of the Osprey's took advantage of the wind that was blowing out towards right field most of the afternoon.
"Coming out of high school [opposite field] was my favorite place to hit. When you hit to opposite field you can see the ball longer before you react on it," Weeks said. "That's usually where I like hitting it, and it showed up today."
Weeks' parents, Christy and Mike, were in attendance to witness their son's historic performance.
"It was pretty cool," said Mike. "I didn't think he would get a chance because he already had four at bats."
Weeks was able to get a rare fifth plate appearance thanks in part to a six run fourth inning in which every UNF batter got an at-bat.
Drew's mom Christy, who contributes sports photos to the Clay Today, was snapping photos to document her son's career game.
Baseball runs in the Weeks family. Drew's brother Wes plays center field for Clay High school and has garnished attention from college scouts.
Weeks, who started at shortstop, said he was aware he needed a double in his last at-bat to complete the cycle.  He said he wouldn't have held up at second base if he could have stretched a hit into a triple just to complete the cycle.
"That's selfish," Weeks said.
After the game Week's dad carried his home-run ball and the smile of a proud parent.
"We talk but he's above me on the baseball aspect. When he was younger we talked a lot, but he's got it figured out way more than me and the coaches are taking it from there. I'm just a fan now," Mike said.
As Weeks stood on the field giving his post-game interview, his teammates walked past offering encouraging words.
"[Hitting for the cycle] is something I will remember forever," Weeks said.
With four pitchers out due to injury, Weeks and the rest of the UNF offense must continue to produce as UNF delves deeper into its conference schedule.
The win on Saturday followed a 15-4 win against the Bucs on Thursday and a 5-7 loss on Friday.