Ospreys tame Wildcats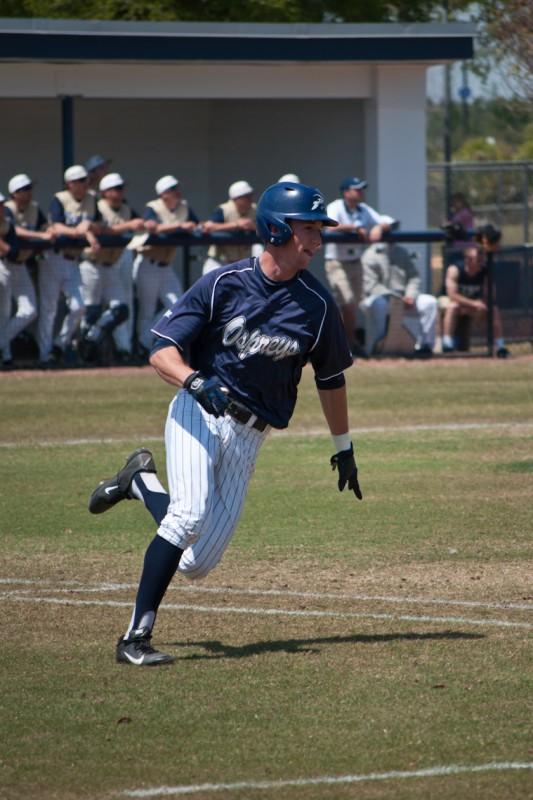 UNF baseball earned a season series victory over Bethune-Cookman Tuesday in a 3-1 victory. UNF started the down a run early in the first inning, but sophomore Drew Weeks  and starting pitcher Evan Incenelli made sure the Wildcat lead was short lived.
After hitting for the first cycle in UNF baseball history on Sunday, Weeks blasted a 1-1 pitch from Wildcat starting pitcher Lenny Martinez over the fence in deep center field. The leadoff homer put the Ospreys tied at 1-1 with Bethune Cookman and UNF didn't look back.
"This year hasn't really turned out how I wanted it (to) so far," Weeks said. "So, I changed up my swing, changed up my approach and tried to change up my mechanics and so far I've been seeing the ball really well lately."
Weeks now has two straight games with home runs. The Green Cove Springs native was visibly upset after being in the third inning. The shock caused his arm to lock up on his way to first base.
Osprey sophomore Evan Incinelli threw for 7.2 innings, giving up one early run on three hits and walked two batters. Incinelli managed three straight one-two-three innings, highlighted by a stout Osprey defensive effort. The right handed hurler is now 3-0 on the season.
"Every pitcher struggles a little bit in the first inning," Incinelli said. "Coach Smoke has his inevitable two, you know. The first inning, you're going to give up two 2 runs and if you can hold it to one or none, that's awesome. As a starting pitcher, from there you start cruising."
The Wildcats committed 2 errors, including a hit by pitch from Martinez on senior Corey Bass which allowed Osprey first baseman Ryan Roberson to score from third with the bases loaded.
Reigning A-Sun Player of the Week Donnie Dewees went 0-4 with a strikeout while freshman closer Corbin Olmstead earned his third save of the season.
UNF is now 21-10 on the season and 4-2 in the A-Sun and rest fourth in the conference. The Ospreys are now 12-6 overall against Bethune-Cookman and are 9-2 against the Wildcats at Dusty Rhodes Field.
The Ospreys earned a 2-1 series victory over Bethune-Cookman with Tuesday's win. Bethune-Cookman split the series 1-1 after a 14 inning marathon resulting in a 6-5 win March 26.
The Ospreys begin a three game homestand against Atlantic Sun foes, the Mercer Bears April 5.