Student Government smoking forum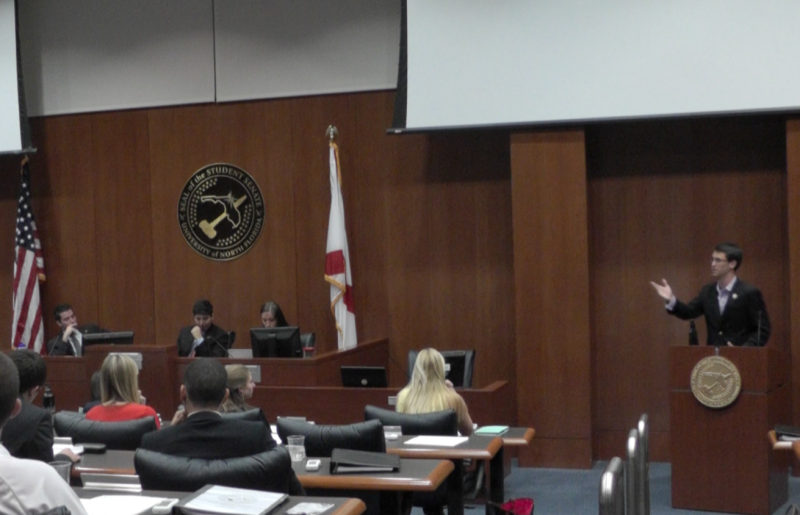 This week's open forum for having a proposed tobacco free campus had more than one student show up.
Eric Armetta, political science junior, was the first student to speak. Armetta is a non-smoker against the ban on tobacco. Armetta touched on UNF's current smoking policy. The policy states that one cannot smoke within 25 feet of a building. Armetta said that the urns for cigarrette buds were within that 25 feet range.
He said, "They set you up for failure."
Charles Skibinski, communications freshman, was also against the ban. He said there is no evidence on the effects of secondhand smoke outside. Skibinski said that UNF is trying to ban smoking to make the campus healthier. Skibinski used the new Chick-fil-a as a counter to the healthy initiative.
Skibinski said skin cancer is harmful to students too.
"Are we going to minimize sun exposure next?" he said.
William Tutwiler, finance senior, said there was so need for students to expose other students.
Calum Farley, political science sophomore, brought up what would happen to smokers who live on campus.
Political science junior Gabriel Quintas said, "The CDC also released a zombie survival guide. You choose who to trust."
The CDC is where a majority of the statistics on secondhand smoke come from.
New Senate President Chris Brady said SG does not want to impose smoking ban. He said SG wanted opinions of the students and the forum showed they need to do some more research.
Dylan Farrell, sociology sophomore, told a story about a tour group he lead where a UNF smoker blew smoke into the face of someone on tour. He said this gives a bad representation of the university.
Another open forum for students, staff and faculty will be held on April 17 in the Student Union Ballrooms from 12 p.m. to 1 p.m.
Email Sarah Ricevuto at [email protected]