Rally in Tally for higher education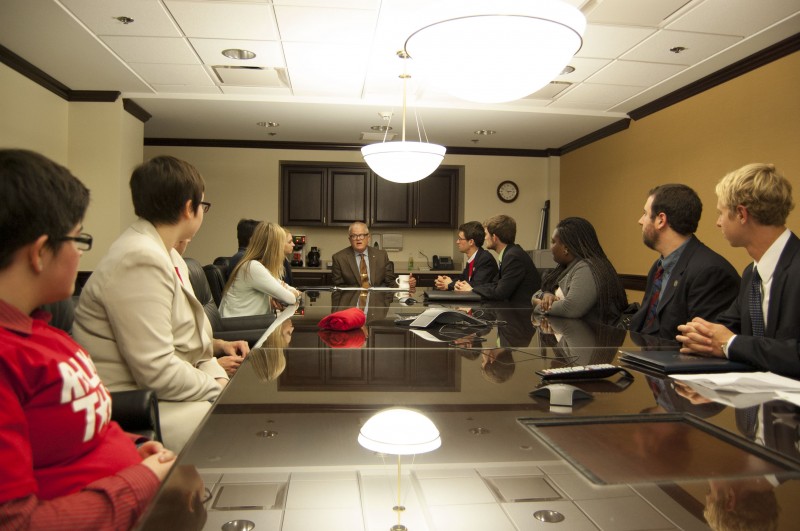 Students from each of the 11 Florida state universities gathered in Tallahassee to get a unified message across to state legislators through the Aim Higher initiative.
Aim Higher is the initiative taken by those 11 Student Governments to make students aware of the annual tuition increase and to speak out against it to Florida legislature.
In February, each of the 11 delivered postcards to the capitol protesting the annual 15 percent tuition increase. In the 2003-'04 school year the average cost per credit hour at UNF was $63.41. For 2012-'13, the cost per credit hour was $170.20.
According to UNF Student Body President Carlo Fassi, the state senate is against any increase in tuition, but the House of Representatives is asking for a six percent increase.
Students attending Rally In Tally met with legislators to lobby mainly for an end to tuition increases. Other talking points included support for an increase in Bright Futures funding, instate tuition for veterans and instate tuition for all natural born citizens.
Students also lobbied for the bonding of the Capital Improvement Trust Fund — CITF.
CITF is where the funding for school projects, like the Wellness Complex, comes from. The Florida Student Association is advocating for the issuing of bonds to complete school projects.
CITF comes from a building and capital improvement fee worked into tuition. Bonding of the CITF will allow universities to take out loans from the government to complete a project immediately and pay back the loan using the fee.
Fassi said, "Without loans from the government, students have to wait for money to accumulate from the fee."
The day began before the sun. Students met the bus at seven in the morning for the three hour bus ride, missing classes and work to lobby legislature.
The day was dampened by rain in the capitol. Due to the weather, students could not have a traditional rally.
Students stood behind Frank T. Broogan, Chancellor of the State University System of Florida, as he delivered his message to the press.
Broogan said, "For the first time in a long time we are working together off the same sheet of music."
Broogan said there is nothing students can't do. He said, "We have the human potential to do [anything] and more if we are permitted to Aim Higher."
Broogan said, "The students here today are the future. Aim Higher and invest in the future."
Cortez Whatley, President of the Florida Student Association and UCF Student Body President, said, "It's not the best weather but we have the best representation."
Fassi said, "If it rains we'll just go to our meetings because at the end of the day that's why we're here."
Star Caudio, UNF Student Government, S.G,  senator and history and political science junior, said, "Being a student at a university school you think of another school you think of a rivalry. But this is something that bonds us all together. Putting us all together to keep tuition prices down and get back some of the money we are putting into the system."
Cora Merritt, UWF Student Body President and public relations senior, said she likes Rally in Tally because it brings students together.
Merritt said, "I love Aim Higher because it has really united all 11 universities and we're only as strong as when we're united and we come with a united message."
University of South Florida Student Body President and political science senior Brian Goff said his school has supported Aim Higher since the beginning. Goff said USF delivered over 1,000 postcards.
Goff said working together with all the schools for a unified message was the only way to secure the future.
TJ Villamil, UF Student Body President and an entrepreneurship master student, said, "We had a little rally just like UNF. Actually they were the first to take the lead on that so we were really appreciative of their support."
"This is something that I think really set apart the state university system this year," said UF Student Body President Elect and political science senior Christina Bonarrigo. "We changed the tone, we changed the message, and showed our state that we are asking to be viewed as an investment and not as an expenditure."
The rallying representatives met with Florida legislature to lobby on behalf of their student bodies.
UNF students met with several members of legislature to discuss their key points, splitting into two groups to reach more people.
Carlo Fassi outlined the students' points to a staff member of Senator John Legg, while SG senator and communication senior Ryan Traher spoke to Senator Kelli Stargel.
Traher said the experience of talking to a senator was uncomfortable and shocking. Traher said his group's meeting with a staff member was cancelled but the senator was able to give them a minute for two.
He said, "It was overwhelming but a complete honor. I never thought I'd be in Tallahassee lobbying state government."
After working as groups, all the UNF students met with Dr. Frank Fuller, Senior Policy advisor on K-20 education to the Florida Senate.
Fuller said student loans will become a lot like housing loans. He said 62% of people are asking for postponement of payment.
"Like housing, it is easy to get a loan but harder to pay it back," Fuller said.  "Increasing tuition for students will increase the debt."
Fuller explained to UNF students the concept of an education bubble.
An education bubble is an economic theory that says while tuition increases, degrees decrease and the student loan industry is threatened due to default rates.
Spinnaker News caught up with Michelle Staton, Director of Governmental Affairs, the day after the rally.
Staton told Spinnaker that she put hours into coordinating the trip to Tallahassee for UNF students, going as far to stay in her SG office until 3 a.m. the morning of the rally.
She said, "It is wonderful camaraderie to see we can remove any sports rivalry to work towards the greater good."
Students will find out if tuition increases when the state releases its budget by late April to early May.
Email Sarah Ricevuto at [email protected]