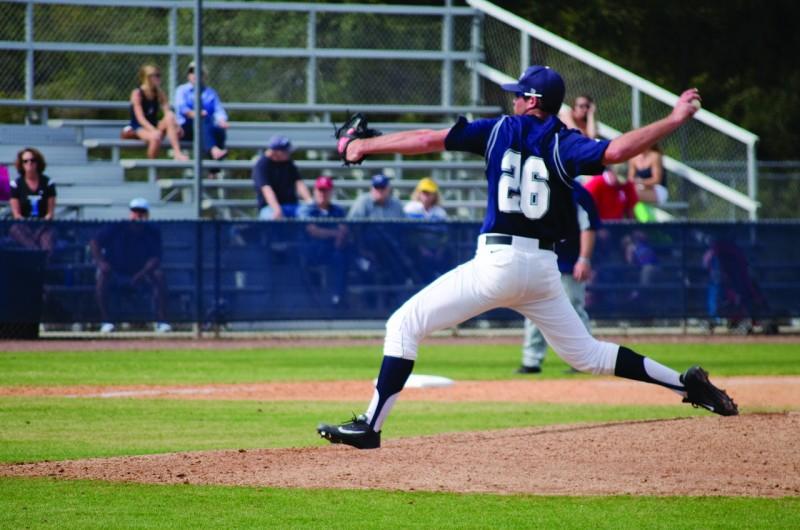 UNF baseball improved to 13-0 all time against the Florida A&M Rattlers with a 2-0 win Wednesday night at Harmon Stadium.
UNF earned its second team shutout this season with the win, but were given no breaks from the visiting Rattlers.
Starting pitcher Evan Incinelli allowed 7 hits in 7 innings, but allowed no runs. In three innings, Incinelli retired batters with runners in scoring position. With his fourth win of the season, the sophomore improves to 4-0.
"When you're challenging guys up, you're going to get hits," Incinelli said. "Coach Smoke always says, 'Even the best of hitters get out 63 percent of the time,' so odds are in my favor if I just go right after it."
Catcher Corey Bass had 2 solid putouts to catch runners stealing second, helping save Incinelli's back when he was jams.
"Bass is awesome. He's a great catcher and I can't wait to see what he's got in store for him, at the next level even," Incinelli said. "He's a brick wall back there, he's got a cannon for an arm and he's just an invaluable asset."
Closer Ryan McMahon allowed 1 hit in the final 2 innings, and earned his first save as an Osprey. The 6'6" junior fed off of Incinelli's solid performance and ensured he kept his starter's shutout intact.
"It's always good to get a team win, the save is just a plus," McMahon said. "The main thing is to throw strikes, get ahead of the hitters. Put them in a hole so they can't beat you."
The Ospreys scored 2 runs on RBI singles from Bass in the bottom of the third and center fielder Drew Weeks in the sixth inning. UNF earned just 4 hits in the game and second baseman Joe Wielbruda committed his 7th error of the season.
After earning a series win over Mercer over the weekend, the Ospreys (24-11, 6-3 A-Sun) looked to go 2-0 against FAMU (2-33, 2-13 MEAC) for the season.
FAMU starting pitcher Kelvin Singletary went 8 innings with a high 117 pitch count, allowing all 4 Osprey hits and the 2 runs, giving him an 0-5 record this season. Third baseman Michael Birdsong went 3-3 for the Rattlers and earned his first 2 steals of the season.
Weeks, reigning A-Sun Player of the Week, went just 1-3 but added a steal along with that RBI. Last week's A-Sun Pitcher of the Week Corbin Olmstead went 0-2 at the DH spot with a walk.
The Ospreys will look to break their tie with Florida Gulf Coast atop the conference standings when they face Northern Kentucky (6-27, 1-8 A-Sun) in a three game series starting April 12 at Harmon Stadium. The Ospreys are now 17-6 at Dusty Rhodes Field this season.