Hashtagapalooza: Social media, language and the great metaweb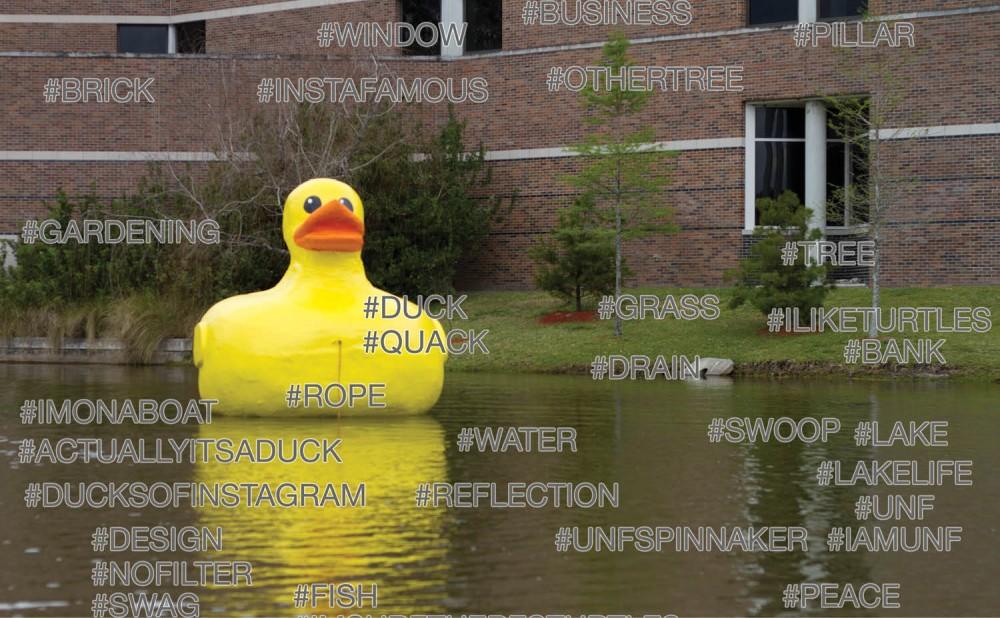 Tyler Shutowick, a UNF economics junior, opens his Facebook page and scrolls down his news feed. He sees his "friends'" posts and liked pages and other content. Then he sees a cross-post from Instagram with a status with four different hashtags on the end.
#Beach #SunLotion #DayOff #Towels
"These things are useless," he says, "They don't do anything on Facebook!"
Why all the hate? Someone's going to the beach; they used Instagram to say it and cross-posted it to Facebook. It seems like anytime this usage drifts up into conversation, the words turn bellicose and pretentious over how "#" ought to be used.
Unlike most sane people, I don't think hashtags on Facebook are useless. In fact, I think they're fantastic.
Hashtags first gained their notoriety through Twitter, where, for example, the post #nerd would be a hyperlink connecting you to a page with other posts tagged with #nerd. Clicking the link would lead you to a #nerd "bin" filled with many different topics concerning "nerdy" things. It contains girls posting pictures of themselves wearing thick rimmed glasses, die-hard students posting their textbooks, and fanboys of Star Wars and Game of Thrones.
Simple right? It's meta-data — The hashtags link to a page of topics that share some relation to the meaning of the word being hashtagged. Sometimes the connection is strong, sometimes it is loose, and other times the topic being hashtagged seems to have nothing to do with the rest of the stuff in the "bin."
When functional, hashtags are almost like a coda in a piece of sheet music referring back to a previous phrase or theme in the song.
When you see a post on Facebook with hashtags, even though you can't click on it as a link, a connection is made. With #nerd, you call upon everything else you can think of that might be related to the word "nerd" at once, which is pretty cool.
For example, "DDR dance party with hardcore dance pad. #$100 #craigslist #DanceTillIDrop"
Even though it doesn't have a point-and-click functionality, it still makes sense. The addition of the hashtags allows readers to see the context in which the post was made, and possibly why it was made.
The movement is not only digital; just this past summer the rise of  #SWAG and #YOLO t-shirts, bracelets and other merchandise became inescapable at nearly every beachside boardwalk.
The symbol is spreading, yet the concept remains.
You don't have to change your stand on how the hashtag should be used. Despite how we feel about it, language is changing to keep up with connectivity.
Connecting websites, ideas, pictures and humor across websites and the whole interweb, hashtags are working their way, often humorlessly, into comment boxes of unrelated, non functional websites. Hashtags are becoming self-evident, directing readers to like subjects without clickable links. The link provides a crossover between the web and t-shirts, and we navigate the connection in our minds.
There is a scary side of this, as well. If a symbol designed and meant to be used online is being used in everyday language, does that jam together the internet and our flesh and blood reality?
With augmented reality technology like Google Glass and Foursquare, as well as other similar technology integrating tech savvy users, could we see a surge in brick-and-mortar stores with products directly linked to reviews?
It's possible — ad companies have already put out commercials taking advantage of the spryness of the hashtag.
If you are upset that #margarita has popped up somewhere inappropriate, like on Facebook, or on a flyer or a bathroom stall, keep in mind the semiotic acrobatics going on. The connected world is yours to unfurl.