Granberry to transfer to Wyoming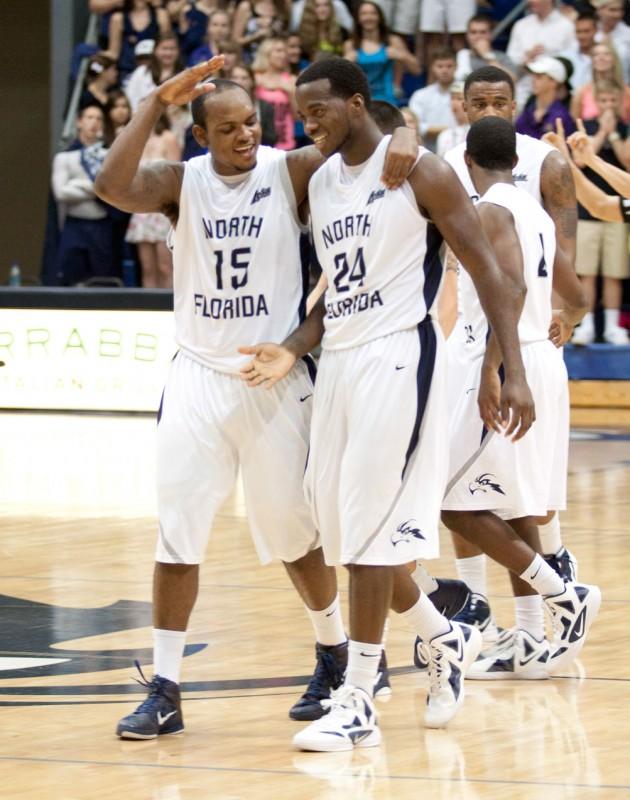 Former UNF Men's basketball standout Jerron Granberry will be taking his talents to Laramie.
Laramie, Wyoming is the home to the University of Wyoming Cowboys, a team that finished with a 20-14 overall record last season.
Head coach Matthew Driscoll said he talked to Granberry and his mother multiple times during and after the basketball season about his future at UNF.
"Just based on those talks and where he was in his recovery and in his being he felt and his mom felt — and I'm %100 behind him — that it was in his best intrest to play this last season at a different school," Driscoll said. "It was really more of a fatherly approach than anything else."
Granberry played in five games during the 2012-13 season, averaging around 9 ppg, before taking a leave of absence following the death of his father in Nov. of 2012. Granberry averaged 10.7 ppg in conference play during his last full season in 2011-12.
"I just asked questions and listend and found out where he was in his heart. Did he want to play or did he not want to play," Driscoll said.
Granberry, a 6-foot-5 guard, will be playing in the Mountain West conference, a conference that featured four teams seeded in the top eight in this year's NCAA tournament — New Mexico (No. 3), UNLV (No. 5), San Diego State (No. 7) and Colorado State (No. 8).
Wyoming is a school with multiple connections to UNF and Granberry.
Granberry's former high school teammate Charles Hankerson Jr. won a Florida state title while playing together at Coral Reef High School in Miami, Fla.
Wyoming's assistant coach Jeremy Shyatt was an assistant coach under Driscoll when UNF made a run to the finals of the A-Sun tournament in 2011.
Jeremy's father, head Wyoming basketball coach Larry Shyatt, was the head coach at Clemson University where Driscoll served as his assistant.
"Coach [Larry] Shyatt is much like me, obviously a mentor of mine. He's very demanding and I don't think that bothers Jerron one bit," Driscoll said.
Driscoll said Granberry was being pursued by agents who wanted him to play overseas as well as other "BCS type schools".
"Being in Laramie, Wyoming is completely different than being in Jacksonville," Driscoll said laughingly. "But people know him, people know what he went through and why certain things transpired."
Granberry will graduate from UNF this weekend, but he has one year of eligibility remaining as a result of sitting out most of the 2012-13 season.