Men's golf Tallahassee bound for regionals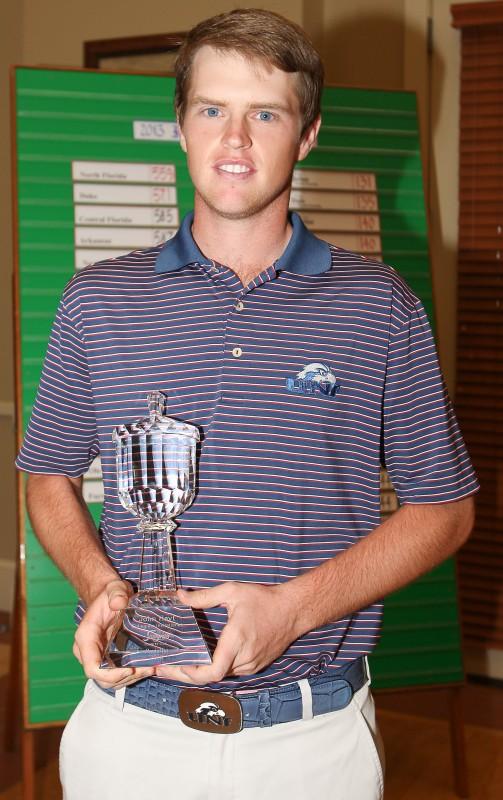 UNF men's golf team is slated to face top-tier competition in the NCAA Tallahassee Regional tournament May 16-18, as chosen by the selection committee May 6. The selection marks the Ospreys' fourth consecutive regional postseason berth.
Led by Atlantic Sun Coach of the Year Scott Schroeder, UNF will be looking to advance to Nationals for the second straight season. The Ospreys finished third last season in the Athens Regional.
UNF will face Florida State, Washington, Oklahoma, Oregon and USF among the thirteen teams in the group.
"If we play to our ability I like our chances," Schroeder said. "Even though it is a bigger event than any other event, you can't make it bigger than it is."
Schroeder has been keeping his team in routine practices, not straying from the formula that propelled the team to its second straight A-Sun title.
Citing the location of regionals, Schroeder admits it's more comfortable to play in a tournament in Florida and he's looking forward to playing in Tallahassee.
Schroeder picked up his fourth A-Sun Coach of the Year award May 1, second most in conference history.
Senior Sean Dale earned his third Atlantic Sun Golfer of the Year award as chosen by conference coaches. Dale along with fellow senior Kevin Phelan both landed spots on the All-Atlantic Sun team.
M.J. Maguire is fresh off his first medal win of the season at the Atlantic Sun Championship.
Maguire  was one of three UNF players who finished in the top five at the A-Sun tourney — shooting 1-under-par. The St. Petersburg native also received All-Atlantic Sun accolades, marking his second such award.
"(Maguire) matured more mentally as a player than physically this season," Schroeder said. He went on to say Maguire's been working more on his focus and approach.
The NCAA Golf Championship features 81 teams and 45 individual competitors and will culminate with the top 30 teams competing in the NCAA Championship in Atlanta May 28-June 2.