Ospreys add to historic season, outlast Eagles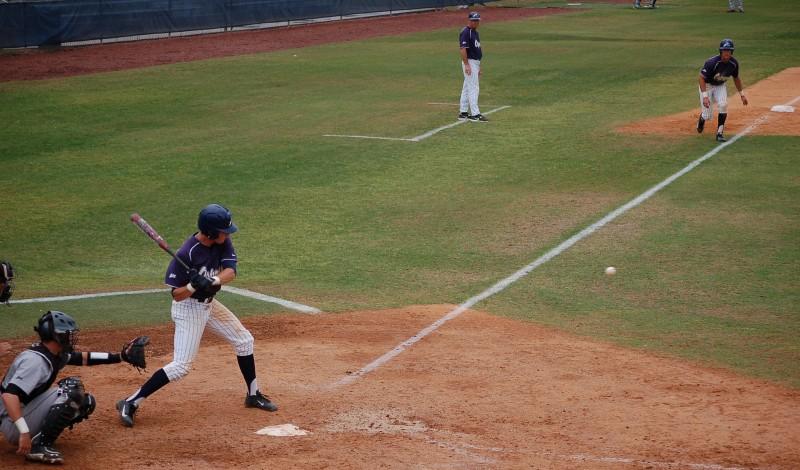 UNF baseball earned win 36 on the season, extending their new record win total since joining the A-Sun.
A 5-2 win in its final non-conference game of the season at Georgia Southern Tuesday puts UNF (Overall 36-16) two games behind first place Mercer in the A-Sun.
Hot from the start, UNF second baseman Joe Wielbruda stole second, to which the Ospreys followed with back to back RBI doubles from Donnie Dewees and Tyler Marincov to put the team up 2-0  in the first inning.
Wielbruda hit an RBI single in the second inning and catcher Corey Bass scored on an error by third baseman Brent Pugh to put the Ospreys up 4-0. First baseman Spencer Hermann also added a run in the fourth to give UNF a solid cushion at 5-0.
Starting pitcher for the Ospreys, junior Tyler Moore, threw for four innings, allowing no runs to the Eagles. Middle reliever Jamie Cardwell blew the team shutout with a two run homer from Georgia Southern first baseman T.D. Davis, but the bullpen remained solid for the rest of the game to end it at 5-2.
The win gives UNF a 20-8 record against non-conference competition for the season, improving the win total from last season by one game.
With just three away games against conference foe USC Upstate left on the season, UNF has a chance to overtake the conference leading Bears and snag the ever-critical top seed in the A-Sun tourney.
The Ospreys were 1-2 against the Spartans last season.