UNF Golf set for Nationals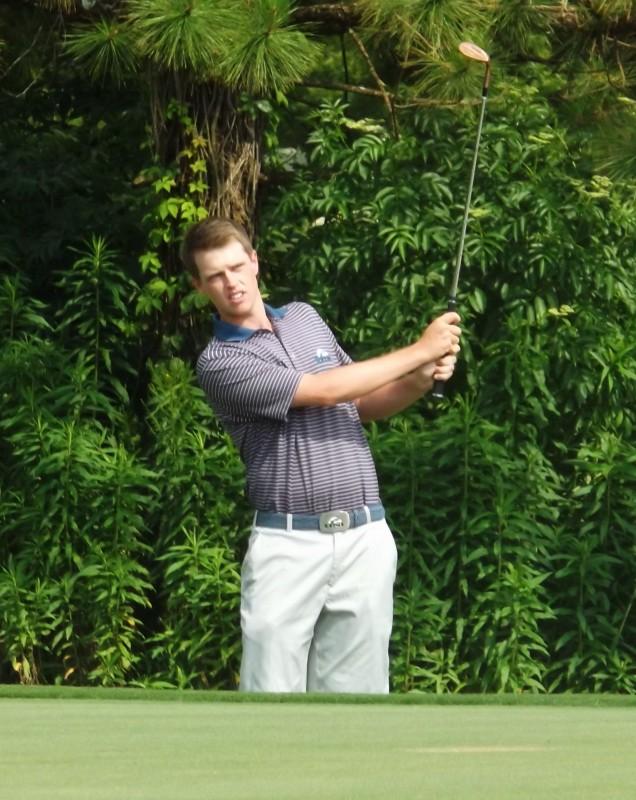 With a National Championship on the line, the UNF men's golf team will need to keep its cool and keep its nerves in check in Atlanta.
After an impressive win at Regionals by a total of 30 strokes, the Osprey golfers look to take on the best in the nation in Atlanta, Ga. at the Crabapple Golf Course, Tuesday beginning at 2 p.m.
In preparation, the team headed to Atlanta on Saturday to begin their practice rounds and figure out a game plan.
"It feels really good to have the team playing well and individually well," said sophomore MJ McGuire. "I feel like we've grown a lot as players on and off the course, managing our games has been big."
The Ospreys welcomed back Sean Dale into the spring lineup after he took the fall to try and qualify through the PGA Tour Q-School.
Dale failed to qualify for the Tour, but has helped UNF become a more complete team in the Spring.
"In the fall we didn't have Sean and there wasn't a lot of confidence," said Taylor Hancock. "Once we got Sean back for some reason it was like the spark."
Dale admits he missed being a part of the team during his time away, and has enjoyed being back playing in the tournaments with his teammates.
Dale also pointed out that it's a great feeling to have a solid number five guy in Hancock.
Coach Scott Schroeder knows that with the help of McGuire, Dale and Hancock his other two selections in Joey Petrino and Kevin Phelan, the team can perform at a high level.
UNF captured the A-Sun and NCAA Regional titles this Spring.
"These guys are so talented that you're working on more mental stuff than you are physical," said Schroeder. "It's about learning from their mistakes and making them better down the road."
Having the mental ability to get past a bad shot is even more important.
Hancock had to learn the hard way in his second round of Regionals, posting a 79 (+7).
"The beauty about college golf is that doesn't matter what you shot the day before," said Hancock. "You're not caring too much about an individual score, the next day you're back to square one."
But, nerves can also taunt players.
Dale says that with most members on the team playing in tournaments since 5 and 6-years-old something they're used to. The senior also had the advantage of playing on big stage throughout his Q-school qualifying.
"Playing three separate events at Q-school, its pretty gruesome with four rounds at a time," said Dale. "You're playing against the best competition out there."
Hancock was involved in playing as a U.S. Amateur last summer, something that he attributes to his success as an Osprey.
"You have to be focused on every shot and as individual you let yourself down, but when you're with a team, you're letting all of them down," said Hancock.
A red-shirted freshman, Hancock is learning to keep that focus through guidance from his coaches.
"You can't get mad out there, you have to take the punches as they come," said Schroeder. "You try not to over coach and try to evaluate what they need to improve before you tell them to improve it."
With a coach like Schroeder helping anyway he can, the golfers look to take home first place by keeping their nerves in check and playing their ideal shots whenever possible.
"I usually play a natural draw, the right to left shots are ideal for me," said McGuire about his preferred shot when options are available as Dale also plays a high draw when he attacks a the pin.
The team left Saturday to see the course at Crabapple for the first time.
Coach Schroeder planned out the best way for his team to attack this long, wide golf course, as Schroeder described it.
The NCAA Championships tees off Tuesday.
Follow UNFspinnaker.com for a full summary of the event.