J.T. Townsend memorial service at UNF set for Saturday
UNF has scheduled a memorial service on Saturday morning for J.T. Townsend, the recent graduate and disabilities advocate who died of a heart attack overnight Tuesday. Townsend was paralyzed from the neck down during an Episcopal High School football game in 2004.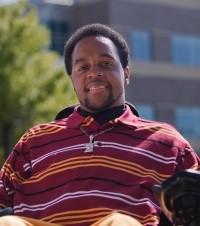 The following is a UNF release announcing the service:
"A memorial service for J.T. Townsend will take place Saturday, June 8, in Building 34, UNF Arena. A public viewing will begin at 9 a.m. and the service will begin at 11 a.m. Townsend recently graduated from the University with a degree in sport management. Because of his community involvement, several thousand people could attend the service."
The J.T. Townsend Foundation, which he founded in 2011, provides equipment and financial assistance for people with disabilities around the First Coast. Following his graduation in April Townsend was still instrumental with UNF's Disabilities Resource Center. DRC Director Dr. Kristine Webb called the 26-year old her mentor and said he affected countless persons with disabilities.
UNF Vice President of Public Relations Sharon Ashton said the best way to remember Townsend is by donating to his foundation at jttownsendfoundation.org.