Spinnaker giving away tickets to Decemberists' show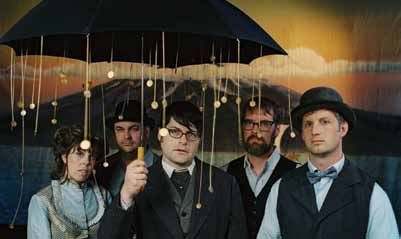 You know when a fresh-faced child, purely innocent, gets burned by the world's malicious side in some fashion — perhaps a broken heart — and then they're just never the same? Their simple qualities turn complex — their air of sunshine turns gray and jaded, their dynamic grows big and strong.
Well, the Decemberists weren't exactly a child, but they used to taste like summer, and in their latest album "The Hazards of Love," I can hardly detect even one dried-up strawberry seed.
In the spirit of the Portland-based group's Sept. 29 show with Laura Viers at the St. Augustine Amphitheatre, we thought a preview would be appropriate. However, the morning I was supposed to interview bassist Nate Query, his manager called and claimed that Query was just too worn out for a quick phone Q&A and decided to cancel the interview with the measly "college paper."
Not being able to have my questions answered, I cannot relay the descriptive specifics of the upcoming show's set(s), theater props or Query's opinion of an Osprey, so I'll just stick to commenting on their latest album.
"The Hazards of Love," released March 24, is the Decemberists' fifth album. Initially intended to be a musical production, frontman Colin Meloy realized halfway through that it would be better as a rock album. The album takes listeners through a scene-by-scene account of dense, whimsical, spine-chilling archetypal love involving a beautiful woman, a shape-shifting young man, an evil rake and a begrudging forest queen.
Obviously their most concrete and conceptual album to date, it only really makes sense when experienced in its entirety. You can't skip to a track arbitrarily on this one like on "Her Majesty" or "Picaresque." Each track, in an individual sense, beholds some weakness, they just don't seem to stand strong on their own. Every song has the same air, the same emotions, the same sounds.
Although Colin's idiosyncratic sea shanty vocabulary mirrored that of previous albums (seriously, where did he learn of subjects like "barrow boys," not in high school English, that's for sure), their musical delivery reflects that of quasi-metal and progressive rock — if you will — laced with super muddy guitar riffs, eerie strings and boulder-like percussion. Another obvious addition I must mention would have to be that of some major guest vocals including Shara Worden of My Brightest Diamond and Jim James of My Morning Jacket.
Hoping for magnificent props, full costume and make-up and hopefully pyrotechnics (maybe I'm shooting too high, but I love fire), I'm betting the live execution of "The Hazards of Love" will be more substantial than their rather 2D album.
Now on to the good part — The Spinnaker will be providing a student (plus one) with the chance to witness the group sink or swim in our grand ticket give-a-way!
The gist:
There will be a two-hour window Friday, Sept. 25 from 11 a.m. to 1 p.m. when you may swing by The Spinnaker's office in the Student Union Building 58E, room 2209.
You'll be asked to complete some lyrics from a random Decemberists song, and if you're the first to get up there and finish the words successfully, congratulations; the tickets are all yours.
This is going down in a first-come, first served basis. E-mail [email protected] if you have any questions prior (except which songs are being quizzed; that would just be cheating).