The Boy Scouts of America are known for volunteer work in their communities, earning assorted badges for their merits and participating in various outdoor activities. According to their website, Scouting.org, they believe "helping youth is a key to building a more conscientious, responsible and productive society."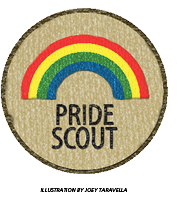 They teach kids how to tie knots, compete in a pinewood derby and discriminate against their fellow members of society solely based on their sexual orientation.
This kind of outdated thinking has to stop.
While it is true that on May 23 the Boy Scouts of America's National Council of 1,400 people approved the removal of the restriction that denied membership to gay scouts with 63 percent of the vote, homosexual scout leaders are still discriminated against. The decision hardly displays enough change to merit the "gay friendly" praise they've been receiving from some media.
The Boy Scouts were founded over 100 years ago and it shows in their outdated principles.
This isn't the first time the Boy Scouts have been intolerant or behind the curve on social change. Racially segregated public schools existed in America until they were declared unconstitutional in 1954, yet the Boy Scouts of America remained racially segregated for another 20 years. Not to mention, women weren't eligible to be primary unit leaders in the BSA until 1988.
According to the Washington Post, 81 percent of young adults — the country's future — support gay rights, and despite the changing times, the Boy Scouts of America still clings to its anachronous rules by banning gay and lesbian leaders.
How does this instill trust and commitment in the homosexual scouts who are allowed in? Sure, the gay scouts can technically be a part of the group, but they are kept at arm's length, knowing they can't be a leader because their organization doesn't accept homosexuals as "morally straight." Perhaps they think by allowing gay scouts, they can mold them into the "morally straight" vision they have for the youth of the nation.
Not every scout supports these intolerant rules. Joshua Israel, Eagle rank in the BSA, is for changing the rules. In an interview with InsideNova.com, he said, "My Boy Scouting experience taught me to be helpful, friendly, courteous and kind to all and respecting of differences. But with its policy of mandatory discrimination against gay scouts and leaders, the Boy Scouts of America has not lived up to those values."
These intolerant rules need to change completely, not just partially, in order for the Boy Scouts of America to be a credible source in teaching responsibility, character and values to the future leaders of the country.