New Aquatics Center, Rec Center, sand volleyball court on tap for campus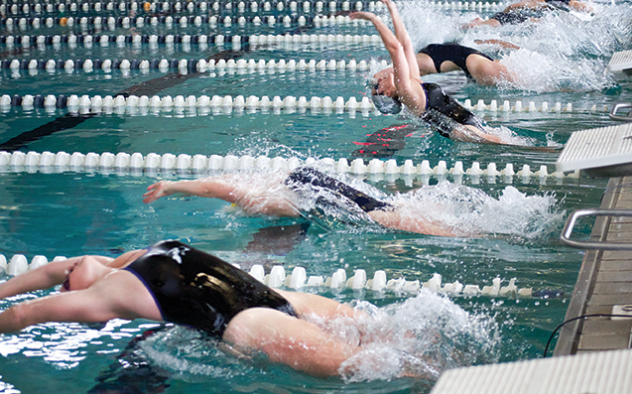 A 3 million dollar crack in the Aquatic Center pool has UNF looking to build a new Olympic size swimming pool facility and stay out of the deep waters of debt.
Athletic Director Lee Moon said the university feels it is financially more feasible to build a new pool structure than it is to fix the old one.
Moon hopes that the new project will boost the morale of the swimming and diving team.
"I think anytime you build something new it gives you a renewed enthusiasm," Moon said. "The size of the new facility is yet to be determined so I think that will have a positive impact on the team."
UNF Vice President Tom Serwatka says that optimistically they would like to see it done in three years time, but in reality, he said there is no way of knowing when the center would finish construction.
The process of building the new pool is in the very early stages. Funding is an important issue and the projected cost is still an unknown, according to Serwatka.
"It could vary with the size, the diving facilities and all that, we estimate it will be over the $3 million," Serwatka said. "It's rather up in the air until we find out what kind of bids we can get."
Serwatka said that they thought the university had a funding source in terms of CTIF money, a fee students pay that can be used for buildings that are not academic.
"Typically, up until this point, that money has been able to be bonded," Serwatka said. " We would get that $1 million and then hopefully bond that toward a higher amount."
However, Governor Rick Scott has decided not to let universities bond that money.
Serwatka said students will see no raise in tuition to pay for the facility.
UNF will have to collect money from CTIF and other sources over a couple of years to go ahead and build the facility.
"A large number of it will come from student fees that they're already paying," Serwatka said. "Unless a donor walks through the door and says 'I'll give you an 'x' amount of dollars if you name it after me.'"
The pool's likely location will be next to the Student Wellness Center where it will integrate with the facility.
The old Aquatic Center pool will be filled in and used as recreational basketball courts, making things easier on UNF's Men's and Women's Basketball teams, as well as Volleyball. No longer will the teams have to battle for court time with students shooting around during open gym hours.
UNF's Swimming and Diving team is not the only team that may have a new facility.
The sand volleyball team, A-Sun Champions for two years running, may get a new court of its own.
"It's something we're looking forward to if we get the opportunity to have some courts on campus," Coach Steve Loeswick said. "Hopefully sometime in the future we'll get space for three courts added that we can use and be able to host events here on campus."
The potential location of the new courts has not been determined.
Loeswick said the team occasionally uses the small court near the Student Wellness Center for smaller training, and utilizing the Osprey Fountains' courts for bigger squad practices.
Athletic Director Moon thinks that the addition of a new court, in portion, has a lot to do with the team's success.
The last two A-Sun Sand Volleyball tournaments were played at Jacksonville University's four court sand facility.
"It's also a response to the university making a commitment to build a successful program," Moon said. "It's a sport that is growing like crazy on the NCAA scene and it's something we could excel at."
Coach Loeswick is hoping that the court will be set for the 2014 spring season as they look to three-peat in the A-Sun Championship.
"Sand volleyball is an exciting sport," Loeswick said. "We're really happy that the program has had success and thank the university for supporting us to be one of the first sand volleyball teams in the nation."
Funding is remains the all important issue for both of these new developments, especially the new pool facility. Depending on when the money can be granted, UNF may see some big changes in the coming years.