Soccer pitch turns to dust for renovation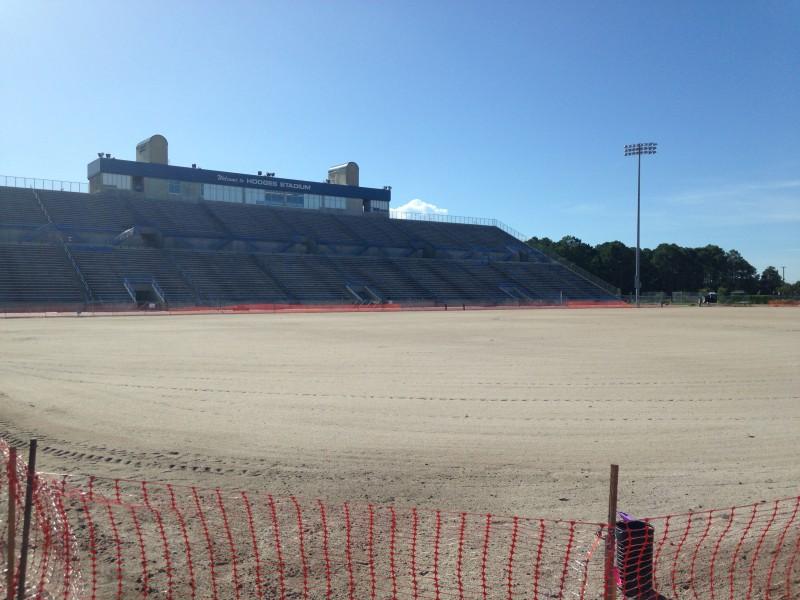 When you take a look at Hodges Stadium, you might notice something is missing — grass.
In fact, right now the field inside the track more closely resembles an African desert than a grassy pitch.
Construction has been going on during the summer break to prepare the field for the upcoming soccer season. As a result, the first few home games will be held elsewhere.
After flooding issues during last year's soccer season, UNF has decided to install a better drainage system to prevent puddle issues, according to the head of UNF Media Relations, Brian Morgan.
Morgan said there is no exact timetable when the field will be complete, but he thinks the field may be playable again around mid-September.
Maintenance added that the teams cannot play at the stadium until the grass gets its roots.
The men and women's soccer teams will play at Patton Park, located at 2850 Hodges Blvd. for the time being. When the season begins fans and students will not be charged admission to watch.
Patton Park should pose no problems for the players in terms of field conditions, however, there is limited seating so late attendees may have to stand depending on crowd size.
The men's team is scheduled to host its first four matches, including the Mike Gibbs Memorial Tournament.
The season begins for men's soccer on August 17 at Patton Park against Georgia Southern, kicking off at 7 p.m.
The women's team will be on the road for its first seven games and by the time the team arrives to play at home, it may get to compete on its home turf.