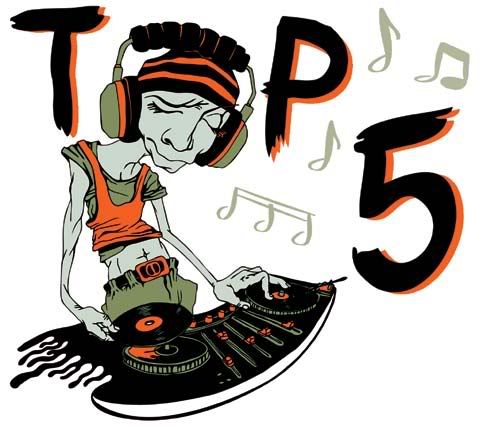 Before I can seriously launch into this week's Top Five, I must make sure it's on the record that I am an almost 100 percent retired cigarette smoker. Unless a certain quality (or quantity, rather) of liquor has passed my lips, I typically opt to nix the cig jive. I also want to preface by saying I'm not (and the Spinnaker ain't) condoning, promoting or thumbs-upping suckin' on nicotine by any means — so please keep that in mind. But if you do partake in cigarette culture or can handle using your imagination, read on. Since flavored cigarettes are being banned and all (see the story on pg. XXX), James (big boss-man editor in chief of this publication) and I figured it relevant to compile Top Five Ballads to Blow Cigarette Smoke to — you know, just to help soften the blow to all you snifflin' cloveheads. Remember, folks, you've always got Pall Mall filters. And for your lung-blackening delight, there is:
"More Cigarettes" by the Replacements
Who better to know utterly self-destructive behavior than these kids? I mean, their song "Beer for Breakfast" has become a full-fledged anthem for generations of co-eds. From their sadly out-of-print '86 album "Boink!!," low-fi dee-dee-deeing guitars add legitimacy to lead singer (and brilliant, brilliant man) Paul Westerberg's yelps out at some astringent, urgent hollers whilst sipping some "cola." The song feels as hard as Minneapolis miscreants lived … or maybe how hard it is to give up Djarum.
"Smokin'" by Boston
The intro sounds more like something you'd hear at a KISS show, what with the rollicking electric guitar and quick drums, but no one can accurately imitate the late Brad Delp's killer coif or vocal styling. Even though the chorus reiterates, "We're cooking tonight/ Just keep on tokin'," er … marijuana is never explicitly mentioned, so I just assume Delp is talking about nursing an American Spirit or something similar. Besides, the jammy breakdown (complete with organ!) and Delp's denim jacketed whirlwind of rather charming suggestions shouted into the hazy sunset — that's what's worth sticking around for.
"Nicotine and Gravy" by Beck
From Beck's funkiest, most neon-ignited album, "Midnite Vultures," this ditty is filled with all sorts of nonsensical lyrics like, "I'll feed you fruit that don't exist," making perfect sense to dot the choruses with "Her left eye is lazy/ Nicotine and gravy." There's elaborated layered vocals, bizarre instruments and found noises (think: arcade games and Zack Morris cell phones). This song is another example of the brilliance falling out of Beck's head that really makes people scratch their own when they find out the cat is Scientologist. Freakish religious practices aside, smokers, try finding the beat in this one and ashing your cancer stick to it. That's a challenge.
"Chocolate Milk and Cigarettes" by Rufus Wainwright
Here's a somewhat serious one. Baroque-pop mastermind Wainwright details a painful list of dangerous vices that he indulges in with his trusty keys to back him up. Beautifully sung poetry like, "Take a lot of sentimental Valiums/ Can't expect the world to be your Raggedy Andy," describes progressively more damaging indulgence Band-Aids and their temporary fix ("Everything it seems I like's a little bit stronger/ A little bit thicker, a little bit harmful for me"). He makes a damn good argument for gorging on jelly beans, too.
"Pink Cigarette" by Mr. Bungle
Mike Patton … no, really — when does he sleep? Anyway, he's in this totally nuts band, too, and in this song (which fittingly follows a maniacal one titled "Goodbye Sober Day" on their 1999 album "California") he croons a suicidal (isn't that kind of what smoking cigarettes is like?) tale of finding a Technicolor cig on the bed of a past lover and sad, sad revelations. Careful not to have Fido around for the last 15 seconds or so of the tune, though, when it erupts into a high-pitched tone that eventually silences it into succumbing. The dreamy dives of ivory cloud-skimming tambourines will get you reaching for your lighter and lipstick, regardless of your gender or weekend agenda.