UNF (4-1-1) hit the road for a weekend of games at FIU (2-4) and FAU (5-0-1 ), beating FIU but losing to FAU.
Friday night the Ospreys took on FIU in what was expected to be a tough road match.
The expectation of a difficult game were met as FIU came with a lot of pressure throughout the game.
"They had a lot of shots but we defended well as a team," said Head Coach Derek Marinatos. "They got some good chances but we had great defending."
FIU had a total of 23 shots, forcing keeper Brad Sienkiewicz to make 7 saves and earn his second shutout of the season, 1-0.
The goal came from Pedro Carniero, his second goal of the season as well as his second game winner, in the 19th minute. Carneiro followed a shot by Jon-Michael Vieira and put it in the net.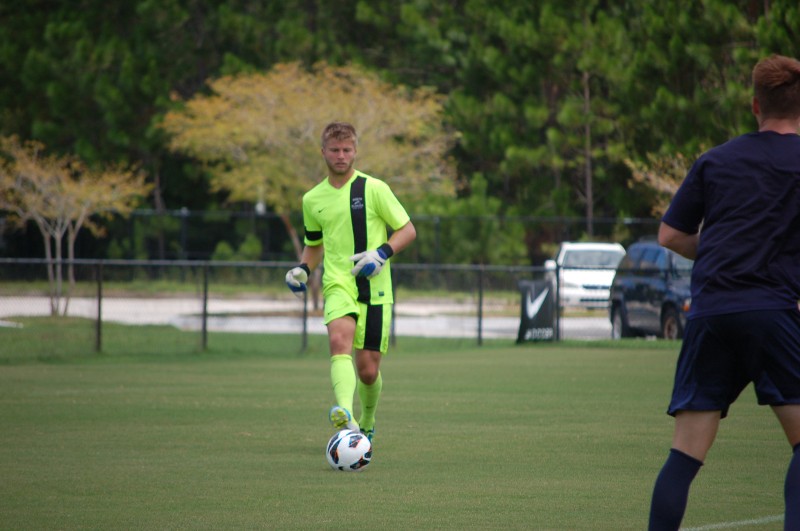 The goal was scored after FIU had been putting high pressure on UNF, according to Marinatos.
"Holding onto a shutout on the road, what more could you ask for," said Marinatos. "A win at FIU is big, they're a great team who had a lot of chances."
Marinatos added that Sienkiewicz made a great last minute save, as well as freshmen Jay Bolt clearing a ball of the goal line.
Following the win, the Ospreys looked now to an undefeated FAU who Marinatos said were a tough team and that it would be a battle on Sunday.
The head coach guessed right as UNF lost a tough game in over time; their third overtime match of the season.
"We were up 2-1 with five minutes left but we didn't take care of the ball down the stretch," said Marinatos.
An own goal early in the game against UNF made it an uphill battle as an unfortunate bounce off an Osprey defender found its way in the net in the 9th minute.
"Brad saved a breakaway and it bounced off Jake's (Frahm) legs and in the goal," said Marinatos.
Jean Rivaroli scored a pair of unanswered goals for the Ospreys, bringing them ahead.
A deflected free kick taken by Rivaroli in the 30th minute found its way into the net. Rivaroli was on the end of a Alex Morrell cross that he was able to shoot in the lower left corner at the 56 minute mark to put UNF ahead.
FAU were given a pk in the 87th minute.
"It was a soft p.k.," said Marinatos. "Our defender poked the ball away and nobody fell down."
Marinatos said the team was a bit rattled going into overtime giving up the late goal but they picked themselves up and forgot about the mistakes before the whistle started the extra time.
FAU was awarded a second p.k. within the first 4 minutes of overtime, one that was a clear foul to Marinatos.
"Guy was running in and we gave up a p.k.," said Marinatos. "Brad almost saved it but the ball found the net."
Marinatos said FAU tested them, winning the ball in dangerous areas but that UNF beat themselves. Giving up two p.k.s and an own goal is a tough way to lose though there was more the Ospreys could've done better.
"We have to get better in the final third and keeping the ball," said Marinatos. "We forced some forward passes, tried to throw haymakers instead of finding the combination play."
UNF take on Wofford (4-3-1) September 28 away from home before beginning its Atlantic Sun Conference play the following weekend when they host East Tennessee State (2-2-2).