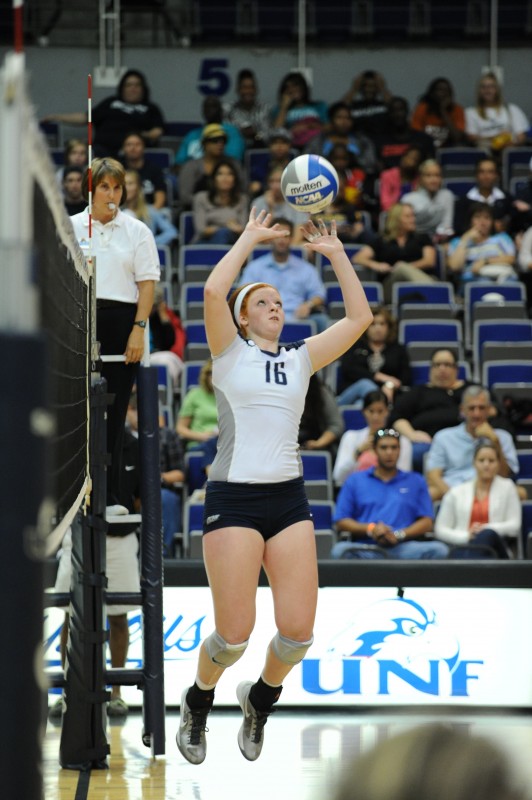 After losing six straight matches UNF volleyball finally picked up a win to stop its losing skid, however it lost the next day to fall back onto the losing track.
The Ospreys swept Northern Kentucky Friday in their first home game in 20 days. The team wasn't able to get by Lipscomb on Saturday as the Bison swept UNF.
Something that can't be seen on the stat sheet is how the team finished the match against Lipscomb.
"We had a lot of young people on the court and they're learning how to win in this league," head coach Steve Loeswick said.
In the third set against Lipscomb UNF was trailing 21-18, the team rattled off four straight points to take the lead and force Lipscomb to take a timeout. The two teams would battle back-and-forth in an emotionally and physically draining set, but in the end Lipscomb pulled out the 29-27 victory in the set and more importantly won the match.
Despite making less errors than the Bison, the Ospreys dropped each set. The key stat was total kills. UNF had 36 kills in the match, but Lipscomb had 47. Lipscomb also had an advantage on attacking percentage as well. Lipscomb converted on 18 percent of its attacks while UNF converted on 14 percent.
"We've been trying to get better everyday," Loeswick said. "We're striving for consistency. Today's match I wish we would've come out a little more focused, a little more emotional, but overall we're headed in the right direction."
The team currently sits on the outside looking in early into the conference schedule. Through the first four games, UNF is currently in eighth place in conference standings, but the team has fourteen conference games remaining on the schedule. The remaining conference games are split evenly between road and home matches.
The team has yet to pick up a traditional road win, however it has won two games at a neutral site.
UNF's next two matches will be important to pick up. The team plays two teams who are vying for a better record like UNF. The team will take on Mercer on Nov. 4 and Kennesaw State Nov. 5. Mercer is currently in last place in the A-Sun with a 0-4 conference record while KSU is tied with UNF with a 1-3 conference record.
"We're going to make sure we get a good week of practice," Loeswick said. "Make sure it's focused and intense. Obviously we'd love to win, but our goal is as long as we keep getting better every week I think we'll be able to do some fun stuff at the end of the year."