Blood dripped down Pedro Carneiro's face as he was helped off the pitch.
Carneiro had collided heads with an ETSU midfielder who came in late for a header. The game ended with UNF losing its first conference match 1-0.
An array of injuries have been part of the UNF men's soccer season, causing key players to miss games as conference play begins.
Carneiro was lucky. He only received a broken nose and needed a few stitches.
Carneiro said broken nose affects him mentally more than physically, because he does not use this part of his body in the game. "I just have to be confident in heading the ball again," Carneiro said.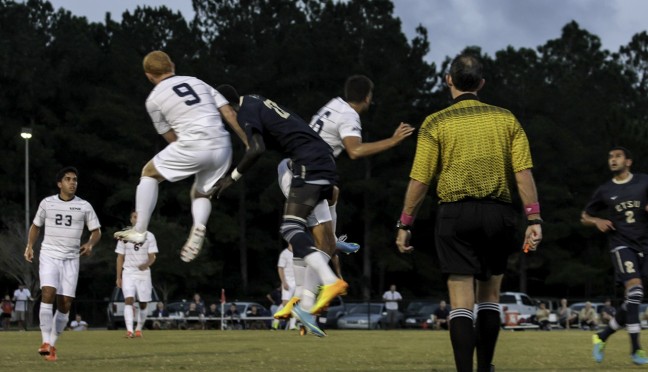 Carneiro returned to the pitch two weeks later against USC Upstate. Sean Young came back from injury in the same game.
Young said he injured his hip flexor in the warm up away from home preparing for Northern Kentucky just eight days prior.
"It was really cold out and I don't think my body was used to it," Young said. "I just felt something pull in my hip flexor and I actually pinched a nerve."
Young said his leg was numb for nearly two weeks.
"It's been frustrating not being at 100 percent but it's not too big of a deal. You can keep playing through it," Young said.
Casey Caronis, who tore his upper left quad against Valparaiso, makes smart decisions to stay healthy in the wake of his injury.
"I went to treatment and rehab twice a day," Caronis said. "I'm still doing rehab for it. I'm just trying to get as healthy as I can by riding the bike for 10 minutes at a time and strengthening it."
Caronis said he wants to be on the field as much as possible and is happy to be able to contribute to the team again.
Alex Morrell did his share of contributing to the team early in the season, scoring two goals and earning two assists.
Morrell was injured in the game against Florida Atlantic University, a match in which he earned one of his assists.
"I strained my hamstring in the FAU game," Morrell said. "I just didn't want to get right back on it and pull it, so we were just taking it easy."
Like Caronis, Morrell was in the training room frequently, going two to three times a day.
In a postgame interview with Spinnaker, head coach Derek Marinatos said he is glad to have players coming back from injury.
Marinatos feels the team is back to its full potential at the right time. Conference play is in full swing and UNF sits in the number six seed after a 1-0 win over Mercer.
"It feels really good to have the team back," Caronis said. "We've gone through a lot of adversity during the middle of the season and everything is working out to where we have our full squad like the beginning of the year."
Young said it's been a tough season dealing with injuries as a team but he feels they can end strong.
"It's great that the whole team is back and I think we're going to make a real bounce," Young said. "We've been through some tough losses by a goal or two and it was rough not having the full team, but I think it's going to be a good end to the year."